Mock Trial newcomer Daniel Allen
wins All-Region Witness Award
for his moving "babysitter" testimony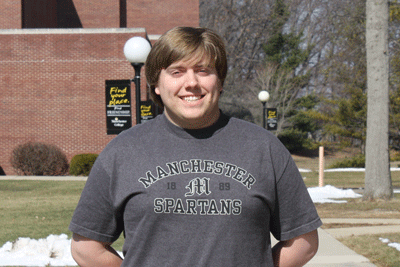 Witnesses were crying, time was flying and objections were sustaining in the regional Mock Trial tournament for college students Feb. 26-27 in South Bend. Manchester College's six-student team was among 22 teams – including several from major universities – competing for a ticket to the nationals.
This year's case centered on a 2-year old boy who swallowed 25 beads from a make-your-own jewelry set for young girls. The boy died, and the lawsuit charged manufacturer HappyLand Toy Co. with negligence.
Despite joining the Manchester team only a week before, sophomore Daniel Allen received an All-Region Witness Award. It was his first Mock Trial tournament. "I couldn't believe it when my name was called," said Allen, who portrayed the babysitter with testimony so effective, he brought a judge to tears. "I'm glad I joined such a dedicated team."
While Manchester did not advance to the nationals, it was a great weekend, said co-captain William Kallas, who portrayed attorneys for the plaintiff and the defense (in separate rounds). Each member of the team earned praises from the various judges in all four rounds, Kallas said.
"We had tough competition, but we were just as tough with opposing counsel as the other teams. Every person on the team performed well," said Benjamin Crim, who portrayed a toy designer for HappyLand.
Brad Pyrah, associate professor of accounting, and Leonard Williams, professor of political science, have mentored Manchester College's Mock Trial teams for more than 20 years.
Team members competing in the regional:
Daniel Allen, sophomore communications studies major, Fort Wayne, Ind.
Benjamin Crim, sophomore accounting major, Dayton, Ohio.
Margaret Hess, sophomore political science major, South Hadley, Mass.
William Kallas, junior political science major, Hammond, Ind.
Aja Neumann, senior political science major, Milan, Ind.
Kacee Robins, senior history major, Huntertown, Ind.

March 2011