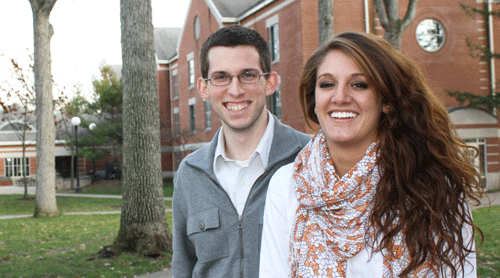 Senior William Kallas and junior Kourtney Reed
Mock Trial first-timer nabs
"Outstanding Witness" title
A Manchester College junior political science and peace studies major earned "Outstanding Witness" honors at her first-ever Mock Trial competition Nov. 11-12. Kourtney Reed of Bluffton won praise for her role as a medical expert at the 10th annual Illinois State University Mock Trial Invitational.

Reed was a member of one of two teams Manchester sent to the Bloomington, Ill., competition that drew teams from 10 schools, including Michigan State University, Loyola University, Miami University, Western Michigan University, University of Illinois and Illinois State.

"The judges praised everyone on our teams for their hard work and performances," said the Manchester team captain, William Kallas, a senior political science and communication studies major from Hammond. "The invitational was not about serious competition, but rather a way to determine what we are doing well and what we can improve before regional competition."

Throughout the year, teams will present the same fictional case: State of Midlands v. Dawson, about a college student who died in a car crash on her 21st birthday. The driver was intoxicated and the State of Midlands is pursuing a charge of murder.

In her "expert" testimony to the jury, Reed had to explain many complex medical procedures and terms in simple vocabulary. "It was difficult. I have no background in the medical field," said Reed. "I practiced with William, my directing attorney, for many hours trying to make sure I would be able to play the role effectively."

The Manchester Mock Trial teams will compete next at Ohio Northern University on Jan. 14-15 in Ada, Ohio. While there, the students hope to meet with seven recent Manchester graduates who are studying at the University's Claude W. Pettit College of Law.

Faculty advisors for the Manchester College Mock Trial team are Leonard Williams, professor of political science, and Brad Pyrah, associate professor of accounting.
Students participating in the Illinois State tournament:

Benjamin Crim, senior, accounting, Dayton, Ohio.
Kaitlyn Filadelfo, first-year, elementary education, St. Henry, Ohio.
Garrett Gossard, first-year, political science, Sheridan, Ind.
James Harry, first-year, political science, Decatur, Ind.
Kaylee Hawley, junior, history, Winchester, Ind.
William Kallas, senior, political science and communication studies, Hammond, Ind.
Ashlea Koehl, sophomore, psychology, Fort Wayne, Ind.
Kelley Love, junior, biology-chemistry, Saint Louis, Mo.
Brad Murphy, junior, economics, Fort Wayne, Ind.
Kourtney Reed, junior, political science and peace studies, Bluffton, Ind.
Nancy Shitakha, junior, marketing/management and communication studies, Uganda
Chelsea Wiechart, first-year, psychology, Garrett, Ind.
November 2011