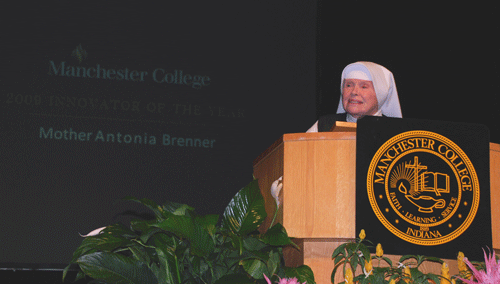 Manchester's 2009 Innovator of the Year
is Tijuana "prison angel" Mother Antonia
How does an 84-year-old nun end up in a Mexican prison with some of the world's most violent, dangerous criminals? By choice … and her innovative strategy.
The twice-divorced, privileged mother of seven sold her home and possessions to embark on a life of service in a 10x10 concrete cell in the infamous La Mesa prison in Tijuana. She sewed her own habit and called upon other mature women to join her in service to the poor. An impressed Roman Catholic Church welcomed her, blessed her as a sister and gave her a new religious community to lead, the Eudist Servants of the 11th Hour.
Mother Antonia is a perfect example of entrepreneurship outside the business world, says Jim Falkiner, the Mark E. Johnston Professor of Entrepreneurship at Manchester College.
On Nov. 17, the servant entrepreneur received the 2009 Manchester College Innovator of the Year award.
"Think of it," said Falkiner. "A Catholic woman, unable to take communion because she was twice divorced, convincing the Roman Catholic Church to recognize her service, accept her back into the Church and provide her with a religious order dedicated to her own calling. That's innovation."
Falkiner challenges students at Manchester to engage in innovation, no matter their major or interests. "The Mark E. Johnston Entrepreneurship Program is about implementing innovations that add value to society, providing solutions to problems that can change the world," he says.
Inside the walls of the La Mesa Penitentiary, Mother Antonia provides spiritual guidance to the inmates and their families and such basic necessities as toiletries, blankets and medicine, and sometimes putting up bail. During a Halloween 1994 prison riot, she walked right into the middle of the armed prisoners, knelt and prayed. The rioters dropped their guns and ended the riot.
"Mother Antonia is the ideal model for Manchester College mission of graduating persons who will apply their abilities and convictions to service, notes Falkiner. In their biography, The Prison Angel, authors Mary Jordan and Kevin Sullivan write:
"It is impossible to give Mother Antonia a gift, because she invariably gives it to someone else. Give her flowers, and they end up brightening a cancer ward. Give her candy, and prisoners end up eating it. She can always think of someone who needs it more than she does."
Mother Antonia spoke about her unorthodox and innovative mission after receiving the Manchester College award. Then, she signed copies of The Prison Angel, available for sale at the College bookstore.
Last year, the College's Innovator of the Year was Kevin Sites, pioneeer of backpack war journalism. For more about entrepreneurship at Manchester College, or studying for a "Certificate in Innovation," visit idea.manchester.edu.
November 2009