Natalie Collar to study Japanese in Japan
with federal Critical Language Scholarship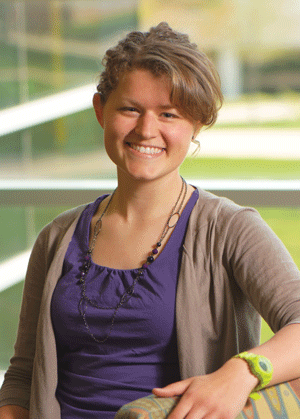 Manchester College senior Natalie Collar will develop her language skills this summer in Kyoto, Japan with a 2011 Critical Language Scholarship from the U.S. Department of State.

Collar, a first-generation college student from Fort Wayne, Ind., spent a year in Sapporo, Japan with BCA Study Abroad and wants more. The mathematics major knows this opportunity to immerse in the Japanese language with other students will be life-changing. "Throughout eight weeks of intensive language study in Kyoto, I will not only have a better grasp of Japanese, but I will also be able to eat, sleep and breathe in one of the most culturally-rich cities in the world."
After completing the program, Collar will return to Manchester College for one more semester. Then, it's on to graduate school in Japanese studies and back to Japan … to teach English.

The Critical Language Scholarship is administered by the Bureau of Educational and Cultural Affairs "to promote mutual understanding and respect between the people of the United States and the people of other countries." More than 5,200 students sought the grant to spend seven to 10 weeks abroad at language institutes in 14 countries.
May 2011