MC student one of youngest members
of state GOP leadership forum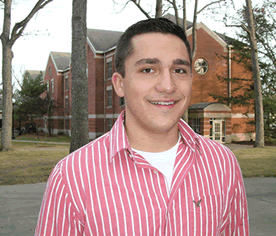 What does a student at Manchester College have in common with a lawyer, a CEO, a bank president and a small business owner? Ability and conviction.
Nicolas Barbknecht, a sophomore from Michigan City, Ind., is a member of the Class of 2010 Indiana Leadership Forum, a non-profit organization that recruits and educates Republican business and community leaders for political leadership in Indiana. The politically active accounting major is one of the youngest members of the Forum, comprised mostly of leaders already in careers, such as politicians, teachers, physicians, lawyers and business people.
"Although young, Nick's aspirations within politics and his community are evident," said Jen Carlton, executive director of the Indiana Leadership Forum. "He was intelligent, professional and articulate during his interview. Most notably, despite his undergraduate status, Nick has an impressive resume of political activity."
The 19-year-old Barbknecht, the first in his family to attend college, also is the first in his family to enter politics. He recently worked for campaigns of Indiana Sen. Jim Banks and an Indiana Secretary of State candidate and is founder and chair of Manchester College Republicans. He also is a member of the Manchester College Economics Club, the Accounting & Business Club and is web communications consultant for the campus Office of Career Services.
Barbknecht will attend monthly sessions of the Indiana Leadership Forum. Learn more about the Forum.
November 2010