Manchester grad joins Christian leaders
in White House meeting with President Obama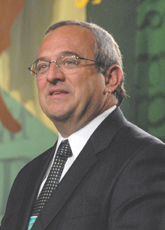 Manchester College communications studies graduate Stan Noffsinger '76 joined other Christian leaders in a Nov. 1 meeting with President Obama at the White House in celebration of 100 years of ecumenism in the United States.

Noffsinger is general secretary of the Church of the Brethren, and a member of the executive committee of the National Council of Churches. He was one of two leaders representing the peace churches.

"What an event! It wasn't just a feel-good meeting, it was substantive," said Noffsinger after the meeting. "We had a very pastoral visit. There was no partisanship. We were there as people of faith."

The Christian leaders emphasized the need to work together for the common good and spoke of the power of churches to lead and break down walls of division. The 42-minute meeting opened with scripture and closed with prayer, Noffsinger said.

"Almost in every issue we laid on the table (the President) was crisp in his responses, very well thought-out," Noffsinger said. "I was very impressed with his caring for and concern for the unemployed, those who need health benefits, those who face violence in their lives."

Noffsinger said he had a chance to speak with White House staff about AmeriCorps, transformation brought about by volunteer involvement in local communities, U.S. AID and the Department of Agriculture, Church of the Brethren initiatives against hunger and the work of the Brethren Service Center.

(This report includes information from the Church of the Brethren, the National Council of Churches and Faith in Public Life.)

November 2010