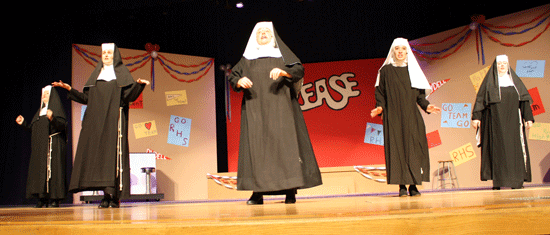 Actresses get into the rehearsal "habit" of Nunsense, from left, Sara Gable, Jennifer Reichenbach, Kathy Hawkins, Kara Mendez and Katherine Haff.
Manchester's production of Nunsense
musical April 26-28 is a community affair


Manchester University breaks out the tap shoes, into song and onto its Cordier Auditorium stage for the popular musical comedy Nunsense the weekend of April 26-28 on the North Manchester campus.

The curtain rises at 7:30 p.m. on Friday and Saturday, April 26-27, and at 3 p.m. on Sunday, April 28. Tickets are $7 for adults and $5 for senior citizens and non-MU students. Reservations are not necessary.

Four community faces (and voices) and an MU junior will don nun's habits of the "Little Sisters of Hoboken" for this hoot of a tale of creative fund-raising for a convent suddenly in dire straits. It's about convent kitchen botulism, many resulting deaths, and coffers too empty to bury all of the newly deceased sisters.

And yet, oddly, the audience shall shed no tears. That's because what's left of the Little Sisters decide to capitalize on their talents (a former circus performer and a ballerina wannabe) with a song-and-dance revue to pay the burial bills. The book, music and lyrics are by Dan Goggin.

The performers:
Sister Mary Regina (Mother Superior and former circus performer) – Kathy Hawkins, second-grade teacher for Manchester Elementary School
Sister Mary Hubert – Sara Gable, who works at KenapocoMocha coffee shop in North Manchester
Sister Robert Anne - Katherine Allen Haff, MU accountant and 2008 graduate
Sister Mary Amnesia - Jennifer Reichenbach, MU yearbook advisor
Sister Mary Leo (ballerina wannabe) – Kara Mendez, junior marketing major from Defiance, Ohio
Leading the performance are Jane Frazier, MU director of theatre, and Debra Lynn, MU director of music. Stage managers are seniors Gabrielle McAfee, a history major from Columbia City, Ind., and Aimee Hoffbauer, an accounting major from Fremont, Ind. The tap choreographer is Levi Smith, a first-year biology-chemistry major from Huntington, Ind.

For more about Nunsense, and the music, visit www.nunsense.com.

April 2013