Manchester College embarks
on White House challenge
to improve literacy, reduce hunger
With new tools and advice collected at the White House in August, Manchester College is taking the lead on an interfaith initiative to boost literacy rates and reduce hunger in North Manchester.

The College was among about 200 representatives from higher education and seminaries who gathered at the White House to kick off the President's Interfaith and Community Service Campus Challenge. The event was packed with workshops, seminars, networking and tips for success.

"In a partnership with local churches, we will use education and coordinated service to improve the literacy rates in our community and combat the poverty level," said Carole Miller-Patrick, coordinator of the Manchester College Center for Service Opportunities.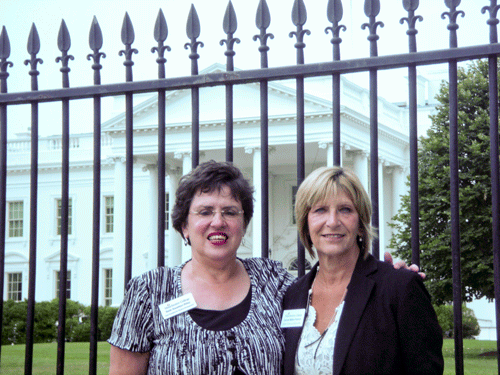 Beth Sweitzer-Riley, vice president for student development, and Carole Miller-Patrick,
coordinator of the Center for Volunteer
Opportunities, at the White House conference

This challenge is a natural for the community of North Manchester, with its 6,000 residents, including scores of College faculty and staff, and more than 1,300 MC students.
"We are entwined with the community on so many levels," said Miller-Patrick, who will lead the challenge with Campus Pastor Walt Wiltschek. "As a result, this initiative has enormous potential. Students strive here to make a difference in the lives of others. We want the community to know that we do indeed care and we want to significantly demonstrate our means and willingness to help."

With more than 3,000 tutoring hours contributed annually in area elementary schools and literacy centers, Manchester College already is a leader in the Indiana Reading Corps. "We will take this program to the next level by partnering even more with our local community churches to provide tutoring in satellite centers and places of worship," said Wiltschek. Importantly, several MC students are prepared academically to teach English as a second language.

The collaboration also will support local soup kitchens and work to ensure the local food bank is stocked, including providing person-power. The soup kitchens have struggled in the community, primarily because of lack of help and supplies, Wiltschek said. "While the churches must take the lead on these dinners to make them sustainable, the College will support their good work to make their goals attainable."

President Obama emphasizes interfaith cooperation and community service, or "interfaith service," as an important way to build understanding between different communities and contribute to the common good. Announced in March, the President's Interfaith and Community Service Campus Challenge invited higher learning institutions to commit to a year of interfaith and community service programming. About 600 schools submitted proposals, 200 were selected.

In 2010-11, MC students contributed 35,000 hours of community service, earning the College a spot on the President's Higher Education Community Service Honor Roll for the fifth-straight year. For more about Manchester College, visit www.manchester.edu.

Learn more about the President's Interfaith and Community Service Campus Challenge, click here.
August 2011