7 p.m. Friday and Saturday, Feb. 12-13
3 p.m. Sunday, Feb. 14
Wine Recital Hall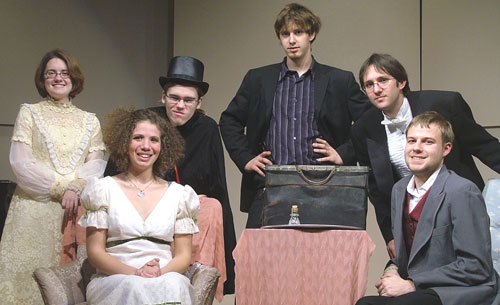 The cast of Les Contes d'Hoffmann
Manchester's Valentine to music lovers:
opera at its best, its funniest, its weirdest
"Divas, Duets and Lovers" at Manchester College fills Valentine's weekend with some of opera's finest music. The audience will roar to topsy-turvy Gilbert & Sullivan, sway with the entire cast to a tale by a Can-Can composer, slip behind the scenes for a diva's final performance … and thrill to a familiar refrain from a "really weird" tragedy.
The curtain rises at 7 p.m. on Friday and Saturday, Feb. 12-13 and at 3 p.m. on Sunday, Feb. 14 in Wine Recital Hall, on the east side of campus. Tickets are $5; reservations are not necessary.
The audience will hear five opera selections studied during a January session workshop that annually exposes Manchester students to opera in context. "Opera is the only genre that requires the performers to sing constantly," notes music director Dr. Debra Lynn of the challenge. "All their movement has to be measured. Every second of stage time and off-stage (costume change, etc.) is measured. They have to be 'ready' constantly."
The students (only a few are music majors) learn to use their "opera voice," with projection and diction. Lynn selects the scenes for the performance to match the voices of those who auditioned, so the audience enjoys the performance as fully as do the performers. All scenes are in English.
On the Feb. 12-14 program:
...a slapstick of forbidden love from The Mikado featuring the entire, very talented male chorus in a quick excerpt from Act I.
...a tragic duet from a weird story, Lakmé, written by Leo Delibes and translated into English by Debra Lynn. The audience will recognize this very short "Flower Duet," sung by soprano Cassandra Whitaker and mezzo soprano Kaylee Hawley. "Their voices are perfect for this," notes Lynn of one of the most beautiful and difficult operatic pieces for female voices.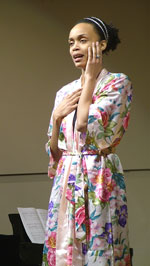 ...a dressing-room scene of an opera singer's final performance, La Divina by Thomas Pasatieri. This amusing little gem of a story of a woman in love with herself and her voice "offers some interesting insights" to back stage at the opera.
...Act III of a tragedy about a woman who loves to sing, but shouldn't because of fatal consequences. Les Contes d'Hoffmann (The Tales of Hoffmann) by Jacques Offenbach is particularly difficult for the performers, who must bring a portrait to life and seem to walk through walls.
The evening ends with a special Valentine treat for the audience, "Barcarolle," a famous and beautiful chorus from Les Contes d'Hoffmann.
February 2010