"How cool was that!"
Alumnus shows Oprah how to parallel park her Lexus
"How cool was that!" exclaimed Oprah Winfrey. Millions of viewers watched as Toyota executive James Colon '74 talked her through no-hands parallel parking a Lexus LS460 on a How'd They Do That? segment of the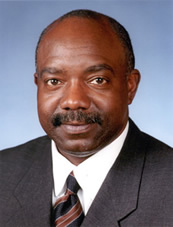 syndicated The Oprah Winfrey Show. The billionaire media magnate sat fascinated as the luxury car parked, and her hands never touched the steering wheel.
Colon, an MC economics and business alumnus, is vice president of sales and dealer development for Lexus, the luxury car division of Toyota Motor Sales U.S.A. Inc. He was demonstrating the Advanced Parking Guidance System, which determines how much space is needed and parks the car. Colon sat in the passenger seat, guiding Oprah through the simple steps of pushing the APGS button and touching the brake to control speed.
Colon is a pro at speaking out for his company. When Toyota committed $240,000 to launch a program to help Chicago parents obtain skills and resources to build strong families, it turned to the Manchester College graduate. "Education is crucial to the growth and development of the communities we serve," Colon announced at the launch of Toyota Black Star Parent University. He continues to serve on the Board of Directors for the Black Star Project.
Colon has served as vice president and general manager for the Chicago Region of Toyota Motor Sales U.S.A. Inc., general manager for the Portland Region, a field fleet manager, national sales administration manager, field operations manager for the Kansas City Region and national manager for the large vehicles series team at TMS headquarters in Torrance, Calif.
During his Manchester College days in the 70s, he was an infielder for the Spartan baseball team and among the leadership of AAFRO Club. Colon returned to campus for the first time during Homecoming 2007, as a member of the Alumni of Color Advisory Council. He is interested in exploring ways Alumni of Color might assist current students financially.
Colon lives in Saint Charles, Ill., with his wife, LaDora. and their children, Tyler and Miles.