Posters from the tabloids: Mervi Pakaste
takes a new look at an old art form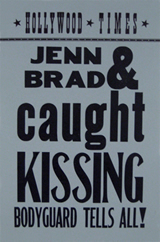 Artist Mervi Pakaste is intrigued by how American culture seems to thrive on gossip and tabloid headlines. Visitors to Manchester College's Link Gallery will find a bizarre collection of headline posters that shout boldly from Pakaste's fictional Hollywood Times tabloid.

The artist also will deliver a lecture about her inspirations and favorite graphic technique (letterpress) at 3:30 p.m. on Thursday, Nov. 15 in Cordier Auditorium. The free lecture is open to the public.
Her free exhibition runs thru Nov. 27 in Link Gallery, which surrounds Wine Recital Hall on the North Manchester campus. Hours are 8 a.m. to 8 p.m. weekdays when classes are in session, and other times by appointment. Call 260-982-5334.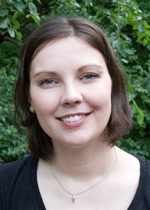 Finland native Pakaste began her design of Hollywood Times during her 2009 residency at Hamilton Wood Type & Printing Museum in Wisconsin. Influenced by U.S. popular culture and media, Pakaste says she is motivated by the cultural differences.

"I have always been slightly disturbed by a superficiality in American visual culture, including the rampant idolization of media-set beauty standards as well as the amount of time people dedicate following and worshipping the lives of 'stars,'" says Pakaste, who leads graphic design in the Department of Art for Kansas State University.

The headlines that shout to us while we wait in supermarket lines "carry an alarming but fascinating mix of obsessive, puritanical and voyeuristic cultural strains," says the artist who uses traditional pre-digital letterpress techniques with all their imperfections for her headline posters. The time-consuming, tactile process recalls a time "when printing was expensive and scarce, and when the cost of production meant that messages and news tended to be of broad importance."

For more about the exhibit and Manchester College art galleries, contact Ejenobo Oke, assistant professor of art, at 260-982-5334 or eroke@manchester.edu.
September 2011