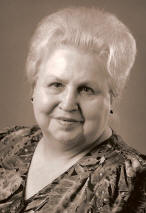 Manchester College mourns loss
of former First Lady Pat Helman
Patricia Kennedy Helman – beloved first lady and hostess of Manchester College for 30 years – died Friday, Oct. 28. Mrs. Helman, who had been in declining health, lived with her husband of 58 years, former President A. Blair Helman, in Timbercrest Retirement Community in North Manchester. She was 80.
The memorial service for Mrs. Helman is at 2 p.m. on Friday, Nov. 4, at the North Manchester Church of the Brethren, 1306 N. Beckley St. The family will receive friends immediately following the service.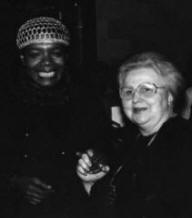 "Patricia Kennedy Helman's life was the kind we all aspire to live," said Manchester President Jo Young Switzer. " She celebrated literature, drama, art, and theology. Her Irish wit gave a wonderful perspective on struggles and on relationships.
"She was devoted to her husband, and their enjoyment of one another led to peals of laughter that enriched us all. Her death is a tremendous loss to the Manchester College community and to her thousands of friends around the world."
As first lady during Blair Helman's presidency from 1956 to 1986, Mrs. Helman served as ambassador, hostess and patron of the arts. She took special delight in decorating Tall Oaks, the president's residence, and filling the Christmas season with parties and gatherings. Her portrait still hangs in Tall Oaks. The couple's portrait hangs in the great room of Helman Hall, a residence hall named in their honor.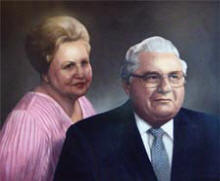 Her love of music and the arts manifested itself on campus in myriad ways, from the serious to the whimsical. She enjoyed discussing books with the College Women's Club and hosted its enormously popular annual tea. Every fall, she and music Professor Gary Deavel would compose a variety show for faculty and staff. She wrote Forever Christmas, which played in November 1999 in the Honeywell Center's Ford Theater in Wabash, Ind. She also wrote the lyrics to the College anthem, Manchester Fair.
Even in retirement, Mrs. Helman remained dedicated to the Manchester College community, returning for celebrations and events. In 1989, the couple led an alumni tour to Australia, New Zealand and Hawaii.
Pat Helman was co-founder and president of The Joyful Scribes Corp., a religious greeting card company purchased by Abby Press in 1993. Her poems and posters will long endure, including her most popular poster: "Bach gave us God's Word, "Mozart gave us God's Laughter, "Beethoven gave us God's Fire, God gave us Music that we might pray without words."
She authored four books, was a published poet and playwright. Her last book, Sign & Symbol, (1992, The Brethren Press) is considered a major contribution toward preserving accessible historical information about art in the Church of the Brethren. Her writings appeared in The Upper Room, Messenger, Alive Now, The Christian Century and Brethren Life & Thought.
As an ordained minister of the Church of the Brethren (as is her husband), Mrs. Helman spoke in hundreds of churches and to secular groups throughout the Midwest. She served as 1982 moderator of the church's South Central District Conference. She served as visiting chaplain at Timbercrest; on the Board of Governors of the National Council of Churches, and as an officer of the Association for the Arts in the Church of the Brethren. She founded Art for Hunger in 1975.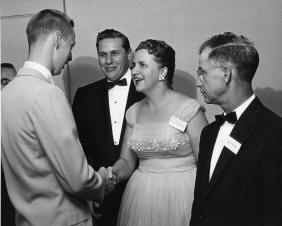 Manchester awarded Mrs. Helman with an honorary degree in May 1997, and in March 2003, honored the couple for their philanthropy. In 1996, Howard S. and Myra Bates Brembeck established the Manchester College Presidential Leadership Awards in honor of the Helmans. The fund awards scholarships to students who demonstrate the promise of making outstanding contributions to the world.
Raised in Marshallltown, Iowa, she received her bachelor's degree and doctorate from McPherson College. Her theological study was at Bethany Biblical Seminary, Associated Mennonite Seminary and Iliff School of Theology. The couple married June 21, 1947.
After retirement from Manchester College, the Helmans lived in Fort Wayne, Ind., returning to North Manchester in 2000. The Helmans have two daughters, Harriet "Bunny" Hill of Wichita, Kan., and Patricia Magaro of Columbus, Ind., four grandsons and a granddaughter.
Memorials may be made to The A. Blair and Patricia K. Helman Honor Scholarships/Manchester College Presidential Leadership Awards in care of the Manchester College Office of College Advancement, 604 E. College Ave., North Manchester, Ind. 46962