Gallery G brings a new tradition
of the arts to Manchester College
With the new College Union comes Gallery G – an unprecedented and exciting way to share the arts on the Manchester College campus. The glassed gallery is on the upper floor of the College Union, extraordinarily visible not only to students, faculty and staff, but also to visitors.
"The gallery is a big step forward," says Professor James R.C. Adams, an artist who undoubtedly will see his works on display in Gallery G. "The College is really putting its money where its mouth is in terms of art."
Because Gallery G is surrounded in glass, it can be secured, enabling the College to host traveling art shows. The bamboo floors put the artwork at the center of attention, and its two-sided walls are movable. The new space augments Link Gallery, which surrounds Wine Recital Hall in the College's Winger fine arts building.
"We are delighted to have Phil Joseph's works as the opening exhibition for Gallery G," said Thelma Rohrer, chair of the Department of Art. "His works are extremely engaging, and as a graduate of Manchester College, professional artist and former university professor, Phil reminds us of the possibilities that lie ahead for our students."
Joseph, who has a master's in fine arts from Michigan State University, has displayed his work throughout the Midwest, including in the Governor's Residence in Lansing, Mich. He is a member of the Board of Trustees.
His 25-piece exhibit in Gallery G displays nature scenes created with oils and acrylic, sketches done while he taught art at Miami University of Ohio, and mixed medium of oils and woodworking. "I tend to start very experimentally," Joseph noted.
The College is grateful to donors for Gallery G: David and Jane Grandstaff, Max Allen '34 and the late Sara Mertz '28 Allen, and Beulah E. Book '39, all of North Manchester.
"Meet the Artist"
Gallery Talk
with Phil Joseph
12:15-1 p.m.
Saturday, Oct. 6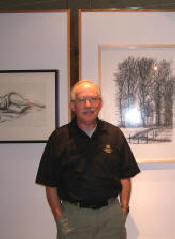 Special
Homecoming
Gallery G hours!
8 a.m. - 9 p.m.
Friday, Saturday, Oct. 5-6