7 p.m. Monday, March 28
Cordier Auditorium
Lincoln scholar to deliver
2011 Henney Lecture
and receive honorary degree March 28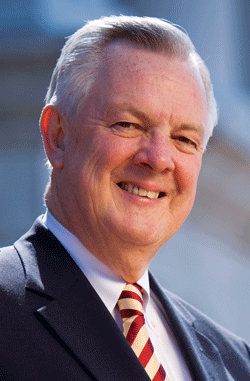 U.S. presidents should look to Abraham Lincoln as a model for leadership, says historian Phillip C. Stone, who will present his theory in a Monday, March 28 convocation at Manchester College.

Stone, president emeritus of Bridgewater College in Virginia, is the ultimate Lincoln scholar: The Lincoln family once lived on a farm now owned by his family, he has more than 500 books on Lincoln (as well as photographs and original documents) and he is founder of the Lincoln Society of Virginia.

The entertaining speaker will deliver the 2011 Jeanette and Harry Henney '35 Lecture and receive an honorary doctoral degree from Manchester College. The March 28 free program begins at 7 p.m. in Cordier Auditorium; reservations are not necessary.

"Abraham Lincoln said, 'If you want to test a man's character, give him power.' Our nation's 16th president, whose character and leadership Phillip Stone has studied for decades, would certainly agree the president emeritus of Bridgewater College has passed this test," said Manchester President Jo Young Switzer.

For 16 years as president of his alma mater, Stone led Bridgewater College on a transformational journey of intellectual, financial and physical growth. During his leadership from 1994 to 2010, endowment growth secured Bridgewater's future; academic programs, facilities and technology expanded; and enrollment nearly doubled. (Bridgewater, like Manchester, is a Church of the Brethren college.)

For 24 years prior to his Bridgewater presidency, Stone practiced law, rising to the leadership of the Virginia Bar Association. A highly respected and frequently quoted Lincoln scholar, Stone also is a member of the Advisory Board of the U.S. Lincoln Bicentennial Commission and the Virginia Lincoln Bicentennial Commission.

The Jeanette and Harry Henney '35 Lectureship was established by Dr. Jane E. Henney, a 1969 graduate of Manchester College and member of its Board of Trustees. The former commissioner of the U.S. Food and Drug Administration currently is a professor of medicine for the University of Cincinnati.


March 2011