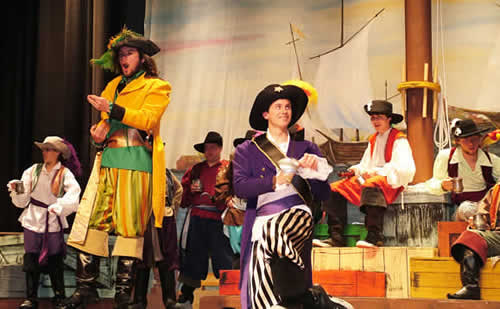 Resplendent in his gold Pirate King's coat, junior David Moan of Goshen sings advice to pirate's apprentice Nicholas Kenney, a Fort Wayne sophomore.
College-community collaborate
in opera comedy "Pirates of Penzance"
Pirates have dropped anchor at Manchester College and they're … dancing?
In a community collaboration this weekend, May 2-4, Manchester College, Manchester Symphony Orchestra and community performers presents Gilbert & Sullivan's popular opera Pirates of Penzance. The comedy for the whole family – in English – is made possible through underwriting by the Community Foundation of Wabash County.
The curtain rises at 7:30 p.m. for the Friday and Saturday performances and at 3 p.m. for the Sunday show, in Cordier Auditorium on the North Manchester campus. Tickets, available at the door, are $7.50. Senior citizens and children 12 and under are free.
Local residents in lead roles are second-grade teacher Kathy Hawkins of Manchester Elementary School, as a "piratical maid-of-all-work," and Kira Hawkins of the town's new Kenapocomocha coffee shop, as the general's daughter.
Pirates of Penzance is a story of soft-hearted orphan pirates and a young pirate who mistakenly lands in the wrong career. The plot is unforgettable for its tongue-twisting tunes and mishaps. "It's topsy-turvy and kind of crazy," said Debra Lynn, associate professor and chair of the Music Department, who is directing the MSO and the singing for the opera.
"Pirates of Penzance is big, happy, fun, witty, satirical, and can be enjoyed by any age," said Professor Scott Strode, who is the stage director.
"It's a wonderfully well-written opera," said sophomore biology-chemistry major Nicholas Kenny of Fort Wayne, who plays the misguided young pirate, Frederic.
Other key roles: The Pirate King is junior music major David Moan of Goshen; the Major General's youngest daughter is first-year music major Najah Monroe of South Bend; the Major General is 2007 MC graduate Andrew Suhre of Michigantown; and the Police Sergeant is senior sociology and Spanish major Aaron Hostetler of Bremen.
Other community cast members include 12-year-old Brooke Pratt, who appeared in the 2005 College-community performance of Sound of Music; 14-year-old Gabe Hoagland, and Cheryl Huntington, a registered nurse. The 34-member orchestra includes 19 members of the community.
For more about the performance, contact Professor Scott Strode at 260-982-5350.