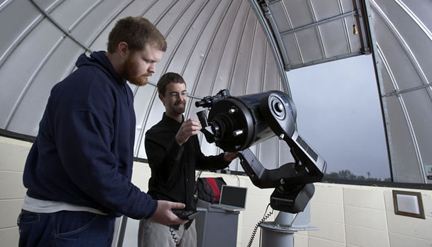 College guide looks to excellent academics,
students to endorse Manchester
as a "Best in the Midwest"
"Professors are especially nice and willing to help you succeed," 2009 psychology graduate Latefa Abdel-Khaleq of Fort Wayne told researchers for The Princeton Review, which once again lists Manchester College as a "Best in the Midwest."
Manchester is profiled on the education services company's website, "2011 Best Colleges: Region by Region." The Princeton Review chose Manchester College primarily for its excellent academic programs, but also considered a student survey of campus experiences, said Robert Franek, senior vice president for publishing.
Manchester College, with 1,223 students and more than 55 areas of study, annually makes the "Best College" list of The Princeton Review and of U.S. News & World Report, which reports its rankings later this month.
Students told The Princeton Review the typical Manchester College undergraduate is "very intelligent," "polite and well-read," and " up-to-date on current events." About 85 percent of Manchester students are Hoosiers, with 21 states and 20 countries also represented.
"Sports are a big common ground with students, but typical jocks these students aren't," reports the website. "There are people into sports, peace, science, math, business, music, theater, etc and everyone coexists relatively peacefully, forming a great close-knit community … students suggest that you do not come to Manchester if you are not open to learning about other types of people and are not willing to accept differences."
Other comments on the website: "Professors are the best part of the school, being knowledgeable, capable, and approachable. They are passionate about what they do and that shows both in and out of the classroom … Professors care enough to help you find a summer internship, write you emails to check in with you while you are studying abroad, and are always willing to offer a listening ear."
The Princeton Review, with editorial offices in New York City and test preparation locations across the country and abroad, is not affiliated with Princeton University and is not a magazine. Find more at www.PrincetonReview.com.
For more about Manchester College, and to arrange a visit to the North Manchester, Ind., campus, visit www.manchester.edu or call 800-852-3648.
August 2010