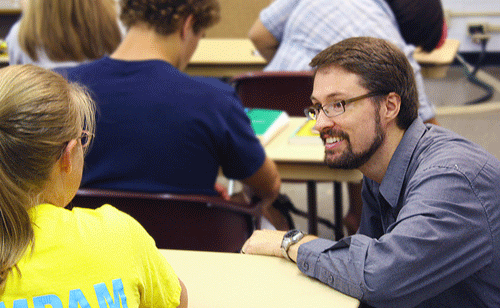 Judd Case, assistant professor of communication studies
Passionate, accessible teachers make
Manchester a "Best College in the Midwest"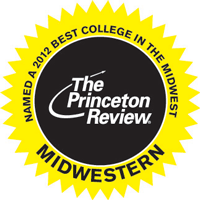 From psychology to environmental studies, Manchester College "professors are really passionate about what they teach," students are telling The Princeton Review, one of the nation's leading website guides for college-bound students. Manchester is a "2012 Best College in the Midwest," especially for its excellent academic programs.

"We're pleased to recommend Manchester College to users of our site as one of the best schools to earn their undergrad degree," announced Robert Franek, senior vice president and publisher of The Princeton Review.

Students of the independent northern Indiana college said in anonymous surveys that their professors use the college's small class sizes (16:1) for "more than just information retention" and focus on critical thinking.

"Critical thinking is a core element of our curriculum and our students hone those skills in all of our classrooms," said Bonnie O'Connell, director of academic support. "Our students learn how to effectively and respectfully gather valid information for decision-making, problem-solving, discussions … skills for becoming responsible citizens."

Students also gave praise for the accessibility of Manchester faculty members "almost any time of the day" and for faculty contributions to the College's strong sense of community.

"Life is relaxed and rewarding at Manchester," The Princeton Review reports, noting the campus activities council and athletics help keep students entertained. "Manchester students agree that the overall quality of life is excellent."

Other comments on The Princeton Review website about Manchester College: "Faculty 'has your best interests at heart' and they all work hard to 'create a comfortable learning environment' where students can excel … Manchester undergrads prepare for the real world during college, thanks to the school's 'commitment to experiential learning' and strong study abroad programs, which help assure that 'every student has the right tools and resources to succeed after college.'"

The Best 376 Colleges guidebook bases its 2012 rating on anonymous student survey data and institutional detail provided by the colleges and universities. The rankings are online at www.princetonriew.com and in print. For the Manchester College profile, click here.

Manchester College consistently gets high marks from college guides and respected education publications. With 1,278 students from 22 states and 21 countries, the College offers more than 55 areas of study. For more about Manchester, and to arrange a visit to the North Manchester, Ind., campus, visit www.manchester.edu or call 800-852-3648.

The Princeton Review, with editorial offices in New York City and test preparation locations across the country and abroad, is not affiliated with Princeton University and is not a magazine. Find more at www.PrincetonReview.com.
August 2011