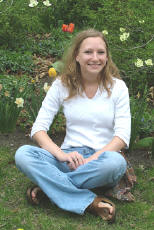 Manchester spring grad
from Fort Wayne receives
Fulbright-administered
teaching post in Austria
NORTH MANCHESTER, Ind. – Manchester College spring graduate Rachel A. Paske of Fort Wayne will study internationally next year with a Fulbright-administered program in conjunction with the Austrian Ministry of Education. Paske – who is expected to graduate cum laude May 23 with a bachelor of arts in sociology – will serve as a teaching assistant in a school near Vienna.
Paske, a graduate of Bishop Luers High School in Fort Wayne, is fluent in German, and has traveled quite a bit around Europe. Her first trip was as a high school student, traveling alone in Vienna. She also has studied 15 months in Marburg, Germany and has visited Denmark, Sweden and England. "Travel has become a passion of mine," she said. "I'm very excited about exploring more of Europe, particularly Eastern Europe, since I'll be living very close to the Hungarian border."
Paske said she may audit sociology courses at the university in Vienna and study Italian while in Austria. She also plans to take a ballet class and read the classic sociological works of Karl Marx and Max Weber in their original German.