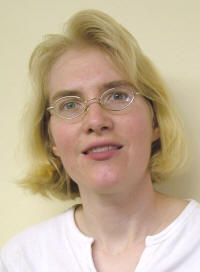 Manchester College community
loses biology instructor, Koinonia
director, Rainn MacPhail
On Friday morning, April 27, a traffic crash took the life of Rainn MacPhail, as she traveled to her class in field biology on the Manchester College campus.
She had directed the College's Koinonia Environmental and Retreat Center since September 2004, and also taught biology classes.
"Under her leadership, Koinonia developed as both a nature preserve, a field station for biological research, and as an educational center that focused on introducing children to the wonders and breadth of nature," said Al Williams, chair of the Natural Sciences Division.
"Her contributions have strengthened the Environmental Center, the Biology Department, and the College. She will be missed."
Over the weekend, students and other members of the Manchester community held moments of silence and prayer at various activities – Peace Week, and Regional Youth Conference, and Relay for Life.
Monday, convocation began with a similar moment. Plans are under way for celebrating Rainn's life, including a campus service at 3 p.m. on Friday, May 4 in Wine Recital Hall and a tribute issue of the Oak Leaves.
Fort Wayne services are at 11 a.m. Wednesday, May 2 at Our Lady of Good Hope Catholic Church, 7215 St. Joe Road, on the north side of the city. visitation is one hour before the service, at the church. Hockemeyer & Miller Funeral Home in Fort Wayne is handling arrangements.
Members of the College's counseling staff are available for those who seek help processing this tragic loss or who simply want to talk. Please call x5306 to arrange an appointment.
Petersime Chapel is open 24/7 for reflection and, for those who wish, to light a candle.
Programs at Koinoina, including Indiana Heritage Days for area fourth-graders and their teachers May 1-2, will continue as scheduled.
Rainn earned bachelor's degree in biology from Indiana University, Bloomington and a master's in biology from Ball State University. She also earned a master's in English from Indiana University Purdue University, Fort Wayne. She had served as a writing instructor for IPFW and Ivy Tech, and a science specialist for Science Central in Fort Wayne.
Memorials
Koinonia Environmental and Retreat Center, in care of Manchester College
National House Rabbit Society
Second Chance Rehabilitation Center