Reception 1 to 3 p.m., Saturday, October 13, 2012
Gallery G: 8 a.m. to 5 p.m. Monday-Friday, noon to 3 p.m. Sundays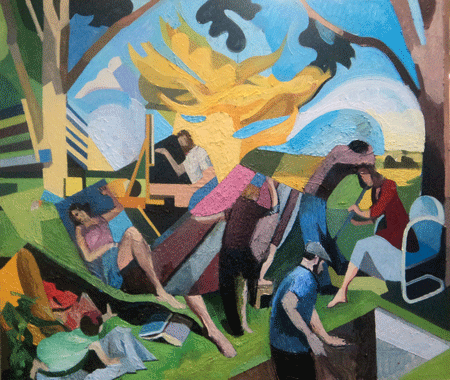 Study for Summer oil on paper by Jeremy Long
"Realism and its Discontents" displays art
of Midwest Paint Group in MU's Gallery G
"Realism and its Discontents" has opened in Gallery G of Manchester University's North Manchester campus. The exhibit is the work of the Midwest Paint Group, whose 11 members have a commitment to "post-abstract figuration."

"(Modernism) focuses on the purist art elements, those without a representational form, like color, light and texture," explains MU galleries coordinator, Ejenobo Oke, instructor of art. "Post abstract figuration takes on the modernist way of looking at subject matter, and applies it to the world. The artists notice these elements in the arrangements around them."

The free exhibit, in the upper Union of MU's North Manchester campus, extends through Nov. 25. The works are unique to the individual artists. "Realism is a fascinating and slippery concept and one that confounds as much as it clarifies," says Glen Cebulash, exhibition curator and chair of the Department of Art and Art History for Wright State University.

The public and MU community will have opportunity to meet five of the artists at a reception during Homecoming, from 1 to 3 p.m. on Saturday, Oct. 13. That Friday, the artists will participate in MU art classes and critique student portfolios.

Gallery G is open 8 a.m. to 5 p.m., Monday through Friday and noon to 3 p.m. Sundays, and by appointment. For details, contact Ejenobo Oke, 260-982-5334.

The exhibit is dedicated to featured artist Gabriel Laderman, a member, teacher, mentor and friend to the artists of the Midwest Paint Group. He died in 2011. Learn more about the Midwest Paint Group at midwest-paint-group.org.
September 2012