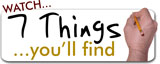 Manchester awards record number
of scholars record $14.4 million
in academic scholarships
Manchester College is awarding a record $14.4 million in academic scholarships to 228 top high school seniors.

The four-year scholarships for the baccalaureate program at North Manchester, Ind., range from $56,000 Dean's Scholarships to two full-tuition Honors Scholarships valued at $103,400 each. All are competitive, awarded for academic achievement and impressive presentation at Scholarship Day last month.

"A record number of top students participated in our Scholarship Days this year," said Dave McFadden, executive vice president. "It was exciting to see such a positive response. We responded to their enthusiasm with record scholarships."

The College, which offers more than 55 areas of study, is awarding the scholarships for students entering in fall 2012.

Manchester offers a Triple Guarantee to enhance accessibility to college: financial aid for every student, a degree in four years and a job or admission to graduate study within six months of graduation.

In addition, Fast Forward gives bright, motivated students opportunity to complete their bachelor's degrees within three years, getting them into their careers quicker without sacrificing the Manchester College experience.

Manchester consistently earns high marks from "Best College" guides and respected education publications. With 1,320 students from 24 states and 24 countries, the College offers more than 55 areas of study. For more about Manchester, and to arrange a visit to the northern Indiana campus, visit www.manchester.edu or call 800-852-3648.
March 2012