Arts benefactor Richard Ford receives
Manchester College honorary degree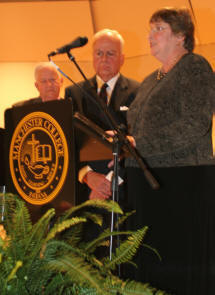 Manchester College on Sept. 15 celebrated Wabash resident Richard E. Ford for his life work as a philanthropist and preserver of the humanities and fine arts at home and abroad.
College President Jo Young Switzer presented Ford with the honorary degree of Doctor of Humane Letters. "Richard Ford has enriched the county, the state and the nation with his commitment to the humanities," Switzer told the audience of community leaders from Wabash and North Manchester, and family and friends of the Fords in the College's Wine Recital Hall. "He connects people who want their communities to thrive and come alive."
The degree ceremony was preceded with a performance by acclaimed international pianist James Giles, a member of the faculty of Northwestern University and a friend of Richard Ford.
"Manchester College and my family have a long history," Ford told the audience, and noted his family's association with several presidents of the College.
Ford was presented for the degree by 13th President Parker G. Marden, who remarked on Ford's service on the boards and advisory councils for arts and humanities organizations that touch thousands of lives, including as chair of the National Trust for Historic Preservation Council.
Ford's service enriches the Wabash Valley Music Association and the Historic Landmark Foundation of Indiana, and it stretches across the ocean to the American Museum in Britain. He generously supports the Ballet Internationale as well as the Wabash County Historical Museum and the Indiana State Museum.
A life member and former Chair of The Honeywell Foundation, Ford also holds a directorship with the Indianapolis Museum of Art and advises the Faberge Arts Foundation. His interests and service span the arts, from presidencies of the American Pianists Association to the Wabash Valley Dance Theatre. The Indianapolis Opera Company and the Indianapolis Symphony Orchestra know him well for his trusteeship and philanthropy.
A 1961 business graduate of Indiana University, Ford was a director in the family business his grandfather Edwin Ford founded, The Ford Meter Box Company, from 1978 to 2001. He is recipient of two Sagamores of the Wabash, and has been honored as a Distinguished Citizen of Indianapolis and of Wabash. He also is "Living Legend" of the Indiana Historical Society.