3:30 p.m. Tuesday, March 16
upper College Union
Manchester College travels with Pietra Rivoli
to follow the global path of our T-shirts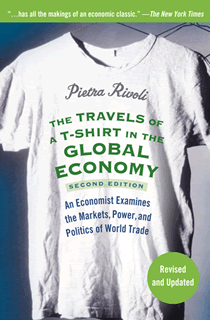 Path-clearing international economist Pietra Rivoli will talk about her book, The Travels of a T-shirt in the Global Economy, for a Manchester College convocation on Tuesday, March 16.
The free program begins at 3:30 p.m. in the College Union. Reservations are not necessary.
Made in China. Made in Vietnam. Made in Nicaragua … Brazil … Mexico. What our T-shirt labels really are saying is "Imported," but that's only part of the story, says the author.
"I traveled the world to investigate," says Rivoli, who teaches finance and international business at Georgetown University and regularly leads MBA residencies to China. "I not only found out who made my T-shirt, but I also followed its life over thousands of miles and across three continents."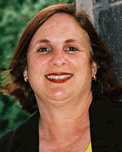 Rivoli tracked her shirt from a Texas cotton field to its manufacture in China to image engraving in Miami, to its sale in a Walgreen's in Fort Lauderdale, Fla. Had the shirt not sold off that drugstore rack, it would have ended up in a used-clothing market in East Africa.
The Travels of a T-shirt in the Global Economy, acclaimed by scholars and reviewers, has been translated into 14 languages and was 2005 Best Scholarly book in finance and economics of the American Association of Publishers.
March 2010