Reception 1 to 3 p.m., Saturday, April 21, 2012
Gallery G: 8 a.m. to 5 p.m. Monday-Friday noon to 3 p.m. Sunday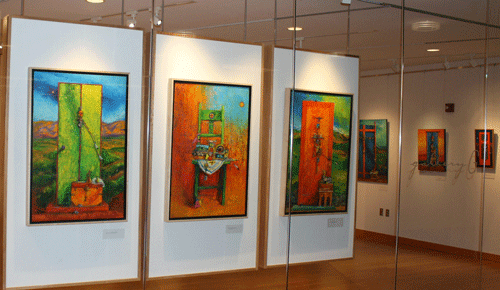 Rudi Klimpert opens doors to brilliant
oil colors in Manchester's Gallery G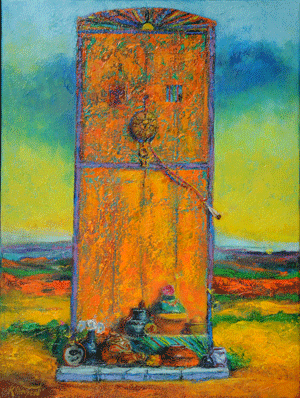 The view through the windows of Gallery G at Manchester College reveals doors, lots of tall doors in brilliant oranges, blues and golds. While but a niche of the late Rudi Klimpert's works, doors are his signature work, each warmly welcoming the visitor to his vivid imagination.

Rudi Klimpert, A Journey of Color and Light is on display through Sept. 7 in the upper College Union on the North Manchester campus. The exhibit is free.

Klimpert, who died at the age of 84 in February 2011, created storyboards for national advertising agencies by day, but his true loves were painting in colorful oils and sculpting in wood and alabaster. When he and his wife, June, retired in 1991 to New Mexico, he gained a reputation for his brilliantly colored landscapes that surround doors embellished with artifacts of the history and cultures of the region.

His artistry with a paintbrush influenced their daughter, Karen Klimpert of Warsaw, a Manchester graduate and elementary art teacher whose works also have filled Gallery G. The public is invited to a reception honoring Rudi Klimpert and his works 1 to 3 p.m. on Saturday, April 21, in Gallery G.

Gallery G is open 8 a.m. to 5 p.m. Monday through Fridays, noon to 3 p.m. Sundays when classes are in session and during special campus events. For special visits or to learn more about Manchester College's galleries, call 260-982-5334.
April 2012