Sanders sisters continue
to put students first
with surprise $700,000 bequest
Educators Florence E. Sanders '48 and Lucile V. Sanders '47 are ensuring that teaching excellence endures at their alma mater. When Florence died on Feb. 20, 2008, the Sanders sisters left Manchester College more than $700,000 – no strings attached.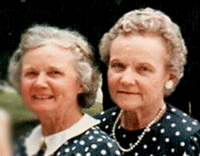 Lucile and Florence Sanders
The bequest from the estates of the retired schoolteachers and their sister Ethel was a surprise to the College, and an endorsement of its stewardship of gifts and planned giving.
"Manchester is profoundly grateful for the generosity of the Sanders sisters," said President Jo Young Switzer. "We appreciate the trust that they have put in the College by not restricting their gift and allowing us to decide how it can most benefit our students."
In addition, the Board of Trustees will apply half the bequest to visionary initiatives – in academics, renovations, and other student-focused opportunities that otherwise would be beyond the College's budgetary reach.
"Gifts that support student learning are powerful expressions of faith in the future," said Switzer. "When gifts come in like this, we always regret not having been able to thank the donors in person."
The three Sanders sisters never married and had no heirs. Ethel, a retired bank employee, died at the age of 85. Lucile, who also taught in St. Joseph County, died at the age of 94. Florence Sanders taught first and second grade for 42 years in Marshall County and South Bend schools. She died at the age of 90. The three lived together most of their lives, retiring to a Greenwood residential community together.
"If you have included Manchester College in your estate plan, or would like to, please let us know so we can express our gratitude and clarify your wishes and instructions," said Stephen S. Thomas, director of gift and estate giving. "Sharing with us ensures we will understand and fulfill your intent, and helps the College plan for the long term." To connect with the Office of College Advancement, click here.
September 2009