Graduation Day Sunday, May 19
Commencement: 2:30 p.m., the PERC
Baccalaureate: 11 a.m., Cordier Auditorium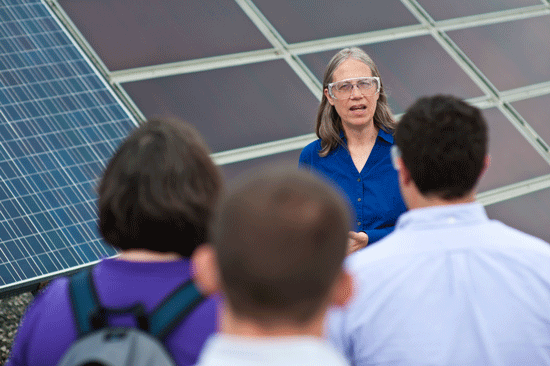 Award-winning solar physicist
Sarah Kurtz to deliver MU
commencement address
Manchester University announced that award-winning solar physicist Sarah Kurtz will deliver its 2013 commencement address on Sunday, May 19. A 1979 Manchester alumna, Dr. Kurtz is internationally recognized for her ground-breaking research in super-efficient solar cells for powering homes, businesses and even satellites and Mars rovers.
With a Ph.D. in 1985 from Harvard University, Dr. Kurtz is a principal scientist and reliability group manager for the U.S. Department of Energy's National Renewable Energy Laboratory (NREL) in Golden, Colo. She is a co-recipient of the prestigious 2007 Dan David Prize and the 2012 Cherry Award.

Preceding her commencement speech, Manchester will confer an honorary Doctor of Science degree upon Dr. Kurtz. Commencement begins at 2:30 p.m., in the Physical Education and Recreation Center (PERC).

Dr. Kurtz is transforming how the world uses energy. Last June, she was awarded the 2012 Cherry Award by the Institute of Electrical and Electronics Engineers. She and NREL
colleague Jerry Olson demonstrated that multi-junction solar cells are not only more-
efficiently converted into electricity, but they also can capture more light in the course
of a day.

"Sarah Kurtz has achieved the Manchester University Mission: She leads a 'principled,
productive and compassionate life that improves the human condition,'" said President Jo Young Switzer. "As a scientist, she has demonstrated the highest level of research achievement in her work on photovoltaic (PV) cells. She continues to elevate the reputation of Manchester University through her time and generosity. Our graduates are fortunate for the opportunity to learn from such a distinguished alumna."
Dr. Kurtz majored in chemistry and physics at Manchester. She received Manchester's Alumni Honor Award in 2012.
"Sarah's contributions to solar science and technology research can't be overstated," said NREL Director Dan Arvizu. The National Renewable Energy Laboratory focuses on creative answers to energy challenges, engaging in fundamental science and energy analysis as well as validating new commercial products. Its discoveries provide sustainable alternatives for powering homes, businesses and transportation.
April 2013