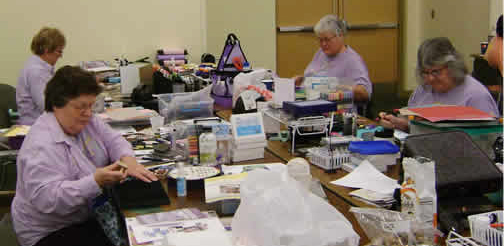 It's time to register for the June 3-5
Scrapbooking Retreat at Manchester College
Scrapbooking online, how to organize photos, layout, and scores of crafty tips are in store for participants of the 2011 Scrapbooking Retreat at Manchester College.
It's time to register for the 5th annual ultimate scrapbooking weekend June 3-5 on the North Manchester campus. Participants can spend the entire weekend on campus or commute. Either way, they'll have lots of opportunity to gather tips from Creative Memories consultant Sue Hooley.
Each of the anticipated 50 participants will have personal 6-foot tables for spreading out scrapbooking materials, tools and projects for the entire weekend. Hooley will teach classes and have supplies available for purchase.
There's more: all meals are included, free wireless internet, a Movie Night, games and giveaways. Suite-like rooms on campus – with private baths, towels and linen service – are included in the $140 weekend package. (Commuters pay $90.) The fee for Manchester College alumni and employees is $125 ($80 commuter).
The retreat begins Friday afternoon and ends Sunday afternoon. In addition, Mini Day Spa & Salon of North Manchester will visit campus Saturday, June 4 to offer massages for purchase.
To reserve a spot, contact Manchester College Conference Services at toll-free at 877-624-8378 or 260-982-5551 or meet@manchester.edu. Registration deadline is May 20.
Registration forms also are on-line at www.manchester.edu. Click on Conference Services on the menu on the left, then on Upcoming Events.
April 2011