It's a Manchester College habit:
President's Higher Education
Community Service Honor Roll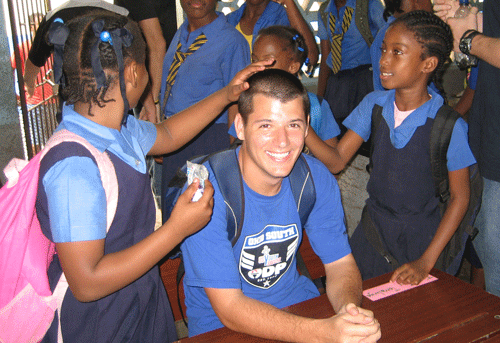 School children check out the buzz cut on MC soccer player Matt Servizzi
during his service learning trip to Jamaica in January 2010.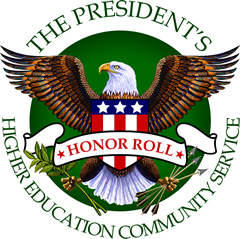 Manchester College is a leader among the nation's colleges and universities for its volunteerism, service learning and civic engagement. For the fifth year in a row, the school is on the President's Higher Education Community Service Honor Roll.

Improving the human condition is a mission of Manchester College, where students and employees contribute more than 35,000 hours annually, connecting their abilities with their convictions. In addition to hundreds of hours as reading tutors, building houses in the deep South with Habitat for Humanity, and fund-raising for area charities, Manchester students are learning meaningful service in their classes.

Helping the College make the 2010 President's Honor Roll, for example, the MC soccer team and a class in social psychology did heavy lifting in January 2010 on work projects for a Jamaica school for deaf children. They also raised $7,000 in donations for the school and two Jamaica peace and justice organizations.

Erin Cole, who graduated magna cum laude this spring, spent that same January in Houston, Texas, serving in a homeless shelter and clinic for immigrants. "One of my most important tasks was to research minerals in foods and create a bilingual diet list for Maria, an ill woman in the house with severe diabetes that has left her with 50 percent kidney failure," said Cole, who will study rural medicine at Indiana University.

Manchester students, faculty and staff help with Special Olympics, Read Across America, breast cancer awareness and many other programs that help make this a better world. Every January, students join alumni medics in remote areas of Nicaragua, delivering care and medicines. The College community also comes together to collect books, clothing and food for the needy and to donate blood for the American Red Cross.

The campus Center for Service Opportunities, which also coordinates Manchester's engagement in Pathways summer service programs and the Indiana Reading Corps, provides a network for students, faculty and employees. Coordinator of the Center is Carole Miller-Patrick, honored by the Indiana governor for her passion for service.

"Carole continually is developing service partnerships across campus and around the community," said Manchester President Jo Young Switzer. "Her energy, passion and thoughtful work demonstrate to students what a difference true service can make."

The Honor Roll is administered by the Corporation for National and Community Service in collaboration with the U.S. Departments of Education and Housing and Urban Development, Campus Compact and the American Council on Education. Honorees are selected for the scope and innovation of service projects, curriculum-based service-learning, long-term campus-community partnerships and measurable community outcomes of the service.
July 2011