7 p.m. Friday, April 30
7 p.m., Saturday, May 1
3 p.m., Sunday, May 2
Cordier Auditorium
Manchester College's Little Shop of Horrors
sure to delight May Day weekend audiences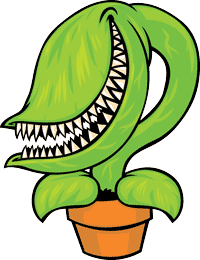 A totally out-of-control plant takes over the Manchester College stage with the rock musical Little Shop of Horrors in three performances April 30-May 2.
"It's a funky little show" that students requested, said theatre lecturer Jane Frazier, who will direct staging, with musical direction by Debra Lynn, chair of the Music Department.
The curtain rises in Cordier Auditorium at 7 p.m. on Friday and Saturday, April 30 and May 1, and at 3 p.m. on Sunday, May 2. Tickets are $7 for adults; $5 for senior citizens and non-MC students. Reservations are not necessary.
"We were able to bring in a professional choreographer Ali Angelone to work with the students," says Frazier of the demanding – and very popular – musical numbers. "She really pushed them. It's been exciting seeing what we can accomplish in a small amount of time."
The dark comedy by Alan Menken and Howard Ashman is about a dorky floral shop worker named Seymour who falls victim to the blood thirst of strange new plant that grows hugely into an ill-tempered blues-singing carnivore. The musical contains adult language and content and is not appropriate for young children.
The cast:
Seymour – Nicholas Kenny, senior biology-chemistry major of Fort Wayne
Audrey – Hannah Reed, junior biology major of Gas City, Ind.
Audrey II Voice – Daniel Myers-Bowman, sophomore music major of Manhattan, Kan.
Audrey II Puppeteer – Gabrielle McAfee, first-year education major of Columbia City, Ind.
Shop Owner Mushnik – Zach Blatz, senior chemistry major of Wabash, Ind.
Crystal – Casey Lambert, senior English major of Chesterton, Ind.
Ronnette/Dance Captain – Katrina Kardys, senior English major of Hoagland, Ind.
Chiffon – Nikki Glassley, sophomore English major of Westville, Ind.
Wino/Patrick Martin – Kahler Willits, first-year communication studies major of Goshen, Ind.
Orin and others – Andrew Wilson, junior education major of North Webster, Ind.
April 2010