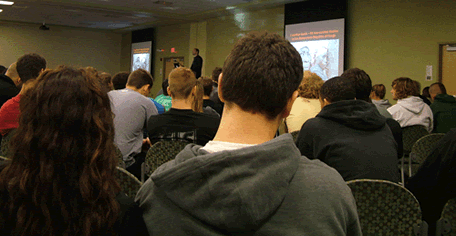 Kevin Sites' address to an overflow Manchester College crowd on Sept. 26 was hauntingly illustrated with his war videos. Below are some of his observations, edited for clarity, as much of his speech discussed what was on the screen.
At the end is a challenge:
Erect, perhaps virtually, a monument to Innocent Victims of Conflict.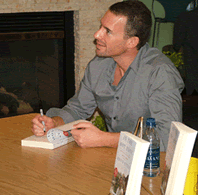 Let us have an honest conversation about war.
Let us not focus only on the legendary evil or the astounding good that we, as people at war, are capable of. Let us focus on the gray. For if there is "ground truth" to be found in war, that likely will be the richest place for us to dig. That place where our moral compass spins with uncertainty – finding little definitive pull from the personal lessons of our own experiences nor from the larger belief system imbued by our religious, ideological or national identification.
I have been a student of war for nearly all of my 20-year career in journalism, the last seven years full-time. Unfortunately, business has been too "good."
Recently, I completed a project for Yahoo! News called the Hot Zone, in which I set out by myself to cover every major conflict in the world within one year. In 368 days, I made 71 flights to more than 20 conflict zones around the world. I wrote 153 text stories, shot 131 videos and posted 1,320 photographs on one website hotzone.yahoo.com.
The mission was to create an accessible bridge of information that would help to distill these conflicts from their broader geo-political issues into their simpler human form. In the plainest terms – I wanted to put a human face on war that couldn't be ignored. The project morphed beyond the web into a book and a documentary.
…
Why we fight, how we kill
Incontrovertibly, war is about the fight for resources. A geo-political game of musical chairs where there are too many people and not enough places to sit. Or in some cases, individuals who may want more than one chair for themselves.
…
The good news is we're not hard-wired to kill each other. It takes a lot of training to get there, but within a combat situation it becomes very easy. The bond created within a unit doesn't happen by accident. It begins at boot camp and is solidified in combat. You begin to feel like the man on your left or right truly is your brother. So what happens when you're brother is shot at or killed? It's becomes very easy to kill back – it becomes justified.
But that bond isn't just limited to killing. It also extends into willingness to give up your own life – again, not necessarily for nation or specific principles – but the people you care about.
…
War poses as combat, when it's really collateral damage.
We define war by perhaps its smallest element – the fighting – when we should be defining it by its most dominant feature.
From East Bukavu to West Beirut, societies are encouraged by their leaders to romanticize warriors and their weapons, emphasizing the sacrifice of the solider, rebel or martyr, while de-emphasizing the legacy of civil destruction they bring.
What I learned from my repeated, consecutive exposure to these conflicts was that the actual fighting between armed groups is small and infrequent, while the violence they radiate on civil society and themselves will last for generations.
…
The challenge: Create a monument to the Innocent Victims of Conflict
I want to leave you today – with one final thought before taking questions. It's more of a call to action – and I'm proud to do it here at Manchester College, which has such a proud and noble history of fighting for peace.
Nearly every community in the world is quick to erect monuments to the sacrifice of their soldiers. Where are our monuments to those innocent victims of conflict who don't carry weapons?
It is the innocent, the collateral damage, who pay the greatest price in war and need to be supported and remembered. I call for you here today to consider how an international monument to the Innocent Victims of Conflict could be created.
What would it look like?
Where would it be? Washington? The Hague? North Manchester? Could it be started virtually online and then transformed into a physical monument?
But most importantly, with the monument just as a symbol, are we actually willing to try and shift the paradigm of our thinking about war from defining it by its smallest feature (combat) to seeing it for what it really is: collateral damage.
Do we have the commitment to this concept? During his Nobel Prize lecture in December 1964 on the threshold of a major U.S. military escalation in Vietnam, the Rev. Martin Luther King Jr. said it very simply but eloquently:
"It is not enough to say, 'We must not wage war.
It is necessary to love peace and sacrifice for it.' "