Conference is full!
(Registration has closed.)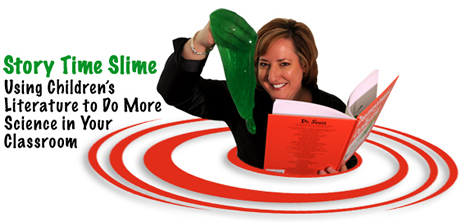 Educating the teacher:
It will be a slimy job … and great fun
"Story Time Slime" of Steve Spangler Science national fame is coming to Manchester College on Saturday, March 13 with a professional workshop for teachers of early learners in pre-school through third grade.
Teachers will participate in hands-on exercises led by dynamic national speaker Julie Gintzler, who integrates children's literature with science.
The methods are current, best practice and fun, designed to connect science with the stories children love, and nurture curiosity.
Conference organizers caution area teachers to make their reservations quickly, as only 80 slots are available for this Early Learner Conference scheduled for 8:30 a.m. to 3 p.m. in the College Union, on the east side of the North Manchester campus.
Steve Spangler, known for turning an ordinary bottle of soda into an erupting geyser of fun, has made hundreds of TV appearances on hands-on science and inquiry-based learning. He has an Emmy for hosting the NBC News for Kids. Learn more about "Story Time Slime" and Steve Spangler Science at www.stevespanglerscience.com.
The Early Learning Workshop will be fun for students and teachers alike, notes organizer Stacy Stetzel, instructor of education at Manchester College, with more than 300 education majors in its accredited Teacher Education program. "Children in the early childhood stage connect with the fictional stories found in children's literature, so using that natural connection to fuel integration with science is powerful," says Stetzel, who specializes in science education.
"This training and networking opportunity will benefit the community in many ways, starting with our children," said Stetzel, noting that affordable, quality professional development is at a premium outside major metropolitan areas like Fort Wayne and Indianapolis. "We look forward to the Early Learner Conference being an annual event."
The $20 fee includes:
6 hours of professional development, with 3 CRU credits
Participation in 20+ ready-to-use science activities
Teacher Workshop Kit, with instructions … and slime!
Lunch and snacks
Opportunities to network with other teachers
Inspiration, rejuvenation, fun!
Register online or call the Manchester College Department of Education at 260-982-5421. (Mail the $20 registration fee or bring it to the registration desk at the March 13 event.) Make checks payable to Manchester College.
February 2010