Spring Break 2011 means service time
for Manchester College groups
Spring Break means volunteer service for two teams from Manchester College who are spending March 19-27 on projects in Alabama and Virginia.
On its 25th Spring Break trip, the College's chapter of Habitat for Humanity is helping to build a new home for a family in Huntsville, Ala. And in Harrisonburg, Va., students are working both "for and with" the land on a sustainable living homestead.
The 15 Habitat students and two faculty members are working primarily on constructing a new home for a needy family, although weather may send them inside on a rehabilitation project, too. Painting, landscaping and carpentry lead their agenda.
Huntsville is a new destination for the Manchester College chapter, which has spent recent Spring Breaks helping victims of Hurricane Katrina. "We can't believe all they have accomplished in this short amount of time," said Janet Wright, volunteer coordinator for the Madison County Habitat for Humanity in Huntsville. "We have been blessed."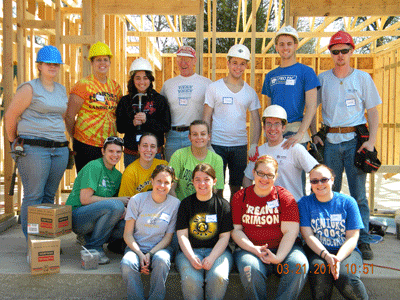 "It's one of the highlights of the whole year for me," said Professor Brad Yoder, who is making his 23rd Habitat trip with College students and other volunteers. "Nothing is more inspiring and rewarding for young adults to chose to invest their spring break so families can have the security of their own home." Yoder, who teaches social work and sociology, co-advises the MC chapter with Stacy Erickson, assistant professor of English.
Manchester College students this week also are learning how to make "green" facilities and about permaculture gardening on the nonprofit New Community Project sustainable living homestead in Harrisonburg, Va. They'll also put in time on repairs in the community bike shop, learning some tips for the MC Take-a-Bike, Leave-a-Bike program that provides free bikes for travel across campus and into town.
"We will have workshop sessions on environmentalism and will go to Camp Brethren Woods for service projects there," said Samantha Carwile, peace studies intern who is leading the Virginia trip.
The trip will give students a great opportunity working with the land and for the land," said Carwile. "We will hopefully come back with better ideas on how to live more sustainably with the Earth."
The volunteers also will take in some local sightseeing, including the Birmingham Civil Rights Institute and the U.S. Space and Rocket Center in Huntsville. The Virginia travelers plan to hike the very challenging Old Rag Trail at Shenandoah National Park.
Service is part of the Manchester College mission. Last year, MC students contributed 20,000 hours of service to their communities, churches and College. To read more about volunteerism at Manchester, visit the website of the Center for Service Opportunities.
March 2011