Outstanding student leaders set
examples of service, commitment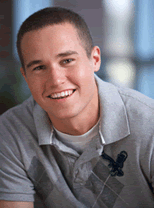 Senior education major Adam Welcher is the perfect role model, says Glenn Sharfman, vice president and dean for academic affairs at Manchester College. Welcher is recipient of the 2010 Capstone Senior Leadership Award for his volunteer service and contributions to campus life during his four years at Manchester.
"He is an outstanding student, leads by example, and has made a difference in his residence hall, in the Education Department, and on the Academic Policies Committee," said Sharfman of the Crawfordsville, Ind., Dean's List scholar.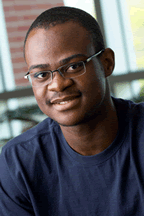 Biology-chemistry major Stephen "Bunmi" Fakoyejo of Nigeria is 2010 Outstanding Student Leader of the Year. The senior, who is minoring in religion, serves as vice president of the campus International Association, and is an active member of the Black Student Union, Asian Awareness Association and African Students Association. He was honored for his service leadership during the 2009-2010 school year.
Manchester students have a reputation for service, to their communities, their churches and their College, with more than 19,000 hours logged annually. The College honored three others for their volunteer service this school year, based on hours served.
Ryan Adams '11, an education major from Akron, Ind., volunteers because "I feel I can make a difference in others' lives." He cites working at the ARC of Wabash prom as his most memorable volunteer experience at Manchester College.
Adelaide Kamagaju '11 is a biology-chemistry major from Fort Wayne. She has volunteered for the Salvation Army, the International Fair, the Science Olympiad, and tutoring immigrant children and at Manchester Junior High School.
Kyler Kearby '11 is a math education major from Columbia City. He volunteers for ARC of Wabash, Partners in Learning, the First Church of God Nursery, Wabash County Junior High Math Contest and Outreach to Teach.
Other 2010 leadership awards:
Organization of the Year: Habitat for Humanity
Program of the Year: Focus on Faith Week, sponsored by the Campus Interfaith Board
Members of the Year: senior education majors Carol Fike of Pearl City, Ill., and Chaitra Jewell of Akron, Ind.
Advisor of the Year: sociology and social work Professor Brad Yoder, Habitat for Humanity
May 2010