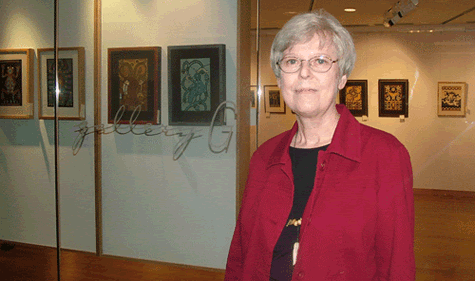 Textile designs inspire Gallery G
exhibition by painter Susan Joseph
Michigan artist Susan Joseph brings her textile-inspired gouache paintings to Gallery G at Manchester College. The free exhibition in the upper College Union continues until Nov. 30.
Joseph's weavings, textile designs and paintings have appeared in galleries and art centers in Ohio and Michigan. Her recent work, on display in Gallery G, is inspired by textile designs from indigenous cultures around the world.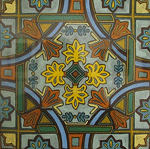 "The sources of my art are largely rooted in textiles," says Joseph, a 1965 art graduate of the College. "Ideas may echo tapa cloth from the South Pacific, adinkra cloth from Ghana, Kuba cloth from Zaire and molas from Panama, to name a few."
Through her paintings, Joseph is able to exemplify the texture, color, even the patterns of the textiles into her own unique designs. Yet, the end results still reflect the textile designs that had set into motion much of her exhibition.
Susan Joseph, a resident of Onekama with her husband, artist Phil Joseph, is a retired art teacher. An exhibition by Phil Joseph, a 1964 graduate, was the debut for Gallery G about a year ago.
Gallery G is open 8 a.m. to 5 p.m. weekdays and noon to 3 p.m. Sundays. For more about art exhibits at Manchester College, contact Thelma Rohrer, 260-982-5327.
Oct. 22, 2008