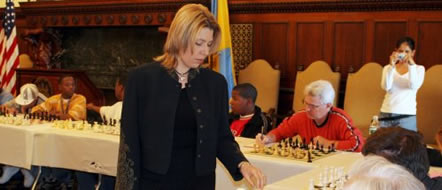 World chess grandmaster Susan Polgar
takes on 25 challengers simultaneously
at Manchester College on April 13
World chess grandmaster Susan Polgar will play 25 players at once in an exhibition Monday, April 13 at Manchester College. The simultaneous game begins at noon in the College Union, after the four-time World Champion presents a convocation on breaking the gender barrier in chess, and how chess can help achieve peace.
The public is invited to both events; admission is free. The convocation begins at 10 a.m. in the upper College Union. A book signing by the author of numerous books on chess, and her autobiography, Breaking Through, follows both events.
Challengers for the simultaneous games include 15 members of the Indiana chapter of the United States Chess Federation and 10 players from Manchester College and the area, including Fort Wayne. Six women will participate, said faculty member Judd Case, a member of the Chess Federation and founder of the Manchester College Chess Club.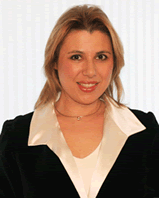 Polgar, the first woman to break the gender barrier in major chess competition, has won four world championships and five Chess Olympics gold medals.
The Hungarian American won her first chess tournament at age 4, her first world championship for girls at the age 12, became the No. 1 rated female chess player in the world by 15. She qualified for the World Chess Championships at age 16, but was not allowed to play because of her gender. Her prowess convinced the World Chess Federation to change its rules and permit female competitors. She is the first woman Grandmaster, the first woman Grandmaster of the Year and is a three-time Chess Journalist of America.
Judd Case, of North Manchester, teaches communication studies and started the College's chess club. He began playing his father at age 5, and is among Polgar's 25 challengers on Monday. "According to her chess rating, hypothetically, she should be able to beat me without using her queen," he notes. Case's wife, Joanne, and their 5-year-old son also play; Joanne Case will compete Monday, too.
Polgar lectures on the benefits of chess as a tool for learning. "Chess is combining so many important qualities in life, such as concentration, focusing and planning ahead, and taking into account the people around you, and precision, and research, and psychology, and time management, and a number of other very important life skills that we deal with on an everyday basis," says Polgar.
She leads the Susan Polgar Institute for Chess Excellence at Texas Tech University, which does academic research in chess. She also leads the Chess for Peace campaign, which has the support of former Soviet leader Mikhail Gorbachev and other political leaders.
"It will be an awesome experience to be able to meet and play a person of this caliber," said junior Nathan Hodges of Crawfordsville, Ind., a member of the Manchester College Chess Club. "In only our first year having a chess club, it is incredible that we have the opportunity to bring a world champion here."
The Manchester College Chess Club meets 5 to 7 p.m. Wednesdays and Saturdays in The Oaks of the College Union. To learn more about Susan Polgar, visit her web site at www.susanpolgar.com.
April 2009