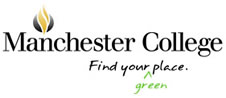 Sustainability Day at Manchester College unites
dragons, bikes, ethanol, recyclables, green
technology and lots of ideas on Oct. 20
Manchester College joins hundreds of campuses across the nation for Sustainability Day on Wednesday, Oct. 20. While the main event is an exhibition of community and College green initiatives from 11 a.m. to 2 p.m. in the College Union, awareness activities and opportunities will continue through the weekend.
The public is invited to join students and Manchester College faculty and staff in exploring the exhibition and perhaps signing a Sustainability Pledge.
Community exhibitors include ethanol producer POET, Riverbridge Electric and the Middle Eel River Watershed Initiative. Campus students and employees will learn how they can "go paperless" not only with their paychecks, but also with their tax reports and about Take a Bike, Leave a Bike – an free stable of bikes available for borrowing.
Two dozen youngsters age 4½ to 12 will display their interpretations of "Recycled Art" ranging from a paper-towel-tube bicycle to a castle, dragons and, yes, bugs. The contest was born in Elementary Art Education Techniques, a course of 26 future teachers taught by Jenna Oke, assistant professor of art. Awards will be on the artwork.
Manchester College, with one of the nation's oldest environmental studies programs, has a mission to graduate persons of ability and conviction who will improve the human condition. Sustainability dovetails nicely with that mission, notes Dale Carpenter, co-coordinator of the Green Campus Initiative and director of human resources for the 1,278-student school nestled on a 100-acre campus of hundreds of trees and considerable green space.
A visit to the Green Campus Initiative web site has information about environmental courses, sharing, green jobs, energy, recycling, cleaning, research, clean plates and other programs and plans to reduce Manchester College's carbon footprint.
Manchester is a member of the Association for the Advancement of Sustainability in Higher Education.
October 2010