Suzanne Gindin to lead
Manchester Symphony
Suzanne Gindin will direct the Manchester Symphony Orchestra, which opens its season Oct. 31. She takes the baton from Manchester College Professor Robert Jones, who retired last spring after 35 years with the College, 25 leading the Symphony.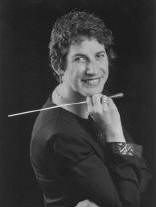 The 50-member community orchestra is comprised of area residents, and Manchester College students, faculty and staff. The MSO opens its season at 3 p.m. on Sunday, Oct. 31 in Cordier Auditorium on campus.
Gindin, an assistant professor, also will teach French horn and trumpet at Manchester College. She holds a master's degree in conducting from the University of Oregon, where she led a band of community and campus members, and is completing her doctorate at Northwestern University, conducting as a student of Victor Yampolsky. In North Manchester, "I would like to inspire a love for classical music – for art music both contemporary and classic," Gindin said.
"How thrilled I am that Suzanne Gindin will be filling the maestro position for the Manchester Symphony Orchestra," said MSO President-elect Diane Scheerer. "Suzanne is such an excellent match for the college and community at this time. She is not only exceptionally talented, but her ability to instantly connect with people is beyond words!
"Suzanne's enthusiasm and passion for her work, for people, and for life in general are just plain obvious and infectious," Scheerer said. "If we could bottle her energetic and vibrant ingenuity, we may be onto a new fortune; but instead, let's just appreciate the genuine person she is and the gift of extraordinary musical leadership she brings to us."
Gindin is excited about the college's larger, reconstructed Recital Hall, which will provide an enriched experience for the audience, with new stadium seating and acoustics, as well as for the performer. The $1.2 million Recital Hall, with 172 seats and an art gallery lobby, will be dedicated at Homecoming, on Saturday, Oct. 9. "You need an intimate performance space like that," Gindin said. "The space has so much to do with the perception and the reception of what is performed. It's going to create a new level of performance here."
In addition to performing in Oregon, Illinois and Michigan, she has taught music, choir, band and orchestra in K-12. Gindin has served as assistant conductor for the Metropolis Youth Symphony in Arlington Heights, Ill., and the Kenilworth Union Church in Illinois. She also has prepared and performed masterworks at the Oregon Bach Festival.
Gindin, who has traveled to 14 countries, holds bachelor's degrees in music education and English literature and is a marathoner and a backpacker. She resides in North Manchester.