Indiana Gov. Mitch Daniels has declared Dr. Jerry Sweeten a Distinguished Hoosier, as an "individual who has earned the respect and admiration of Hoosiers across the state." Indiana Rep. Bill Ruppel presented the award at a campus celebration Dec. 10 celebrating the environmental scientist.
Manchester College ecologist Jerry Sweeten
is 2009 Indiana Professor of the Year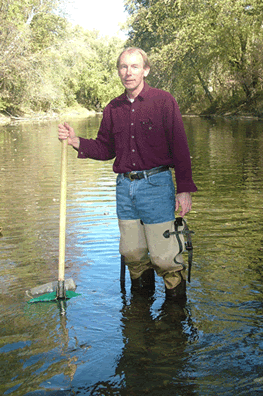 The head of Manchester College's environmental studies program puts his students into the thick of science. He asks them to get wet, get dirty, get tired. Together, they do meaningful research on the birds and bugs and fish in area rivers and in the waters of Alaska and Florida.
On Nov. 19, the master teacher stepped out of his student-focused comfort zone and into the Washington, D.C., spotlight to accept a new title: 2009 Indiana Professor of the Year.
The Carnegie Foundation for the Advancement of Teaching and the Council for the Advancement and Support of Education (CASE) has selected him from an elite roster of more than 300 top professors in the United States. Sweeten is the second member of the Manchester College faculty to receive national acclaim; art Professor Emeritus James R. C. Adams was the 2002 U.S. Professor of the Year.
"Dr. Sweeten links scholarship to active student research in a way that seems completely natural, even though it is a rare phenomenon," says President Jo Young Switzer. "He exemplifies all that is good in U.S. undergraduate education."
Sweeten works side-by-side with Manchester students, studying the ecology of streams and lakes, the DNA of endangered species of fish, owl migration patterns, bird populations, mite infestation rates on honey bees (using two hives on top of the campus Science Center) and the RNA/DNA ratios of freshwater mussels.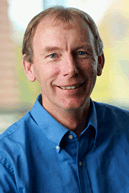 Sweeten, 56, has a straightforward philosophy about teaching: "Take the youthful energy, interests and curiosity of students in ways that move them beyond memorizing information and immerse them in the world of science with all of its beauties and uncertainties."
"Dr. Sweeten is adept at propelling first-generation college students and struggling learners far beyond their expectations," notes Dean Glenn Sharfman, vice president for academic affairs. He mentors his students to present before professional science conferences, where they hold their own and even excel past graduate students. "While I expect students to master content," says Sweeten, "I also want them to become life-long learners and never stop asking questions."
Passionate about the health of the environment, Sweeten has raised more than $1,158,000 in grants focused on the area environment, including Department of Natural Resources funding for a collaboration of government and non-profit organizations and citizens dedicated to cleaning up a 30-mile stretch of the polluted Eel River.
"This generation of students will face unprecedented environmental issues along with inevitable distribution of wealth, food, water, and other natural resources," says Sweeten, who lives with his wife Melinda, an education specialist, on the College's 100-acre Koinonia Environmental and Retreat Center. "The world of tomorrow will not be the same as our world today. Students must be prepared to solve problems through knowledge, compassion for others, and a keen awareness of the life support systems of the Earth."
Sweeten came to higher education late in his career, after 27 years as director of the 160-acre Asherwood Environmental Center in Wabash County. He joined the biology faculty of Manchester College, his alma mater, in 2004. He earned a Ph.D. in aquatic biology from Purdue University, a master's degree in natural resources with a teaching minor from Ball State University.
Manchester College, with 1,223 students from 21 states and 20 countries, offers a broad curriculum in the natural sciences. For more about the independent College in North Manchester, Ind., visit www.manchester.edu.
Read more about the U.S. Professor of the Year.
Nov. 19, 2009