5 p.m., Thursday, Dec. 10 Flory Auditorium
Manchester College plans Dec. 10 reception
for Jerry Sweeten, Indiana Professor of Year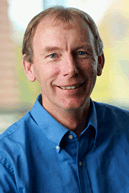 The public is invited to a Thursday, Dec. 10 celebration of Dr. Jerry Sweeten, a Manchester College scientist nationally honored as 2009 Indiana Professor of the Year. The program and reception begin at 5 p.m. in Flory Auditorium, in the Science Center. Reservations are not necessary.
Sweeten, associate professor of biology and head of the College's environmental sciences program, has led a number of area environmental research projects, including creation of a $1 million collaboration of state and area agencies and organizations to stem pollution of a 30-mile stretch of the Eel River.
He received the honor at a Nov. 19 Washington, D.C., ceremony of The Carnegie Foundation for the Advancement of Teaching and the Council for the Advancement and Support of Education. For more about the award, Dr. Sweeten and environmental studies at Manchester College, visit www.manchester.edu.
Read more about the U.S. Professor of the Year program.
December 2009