12th Annual Student Research Symposium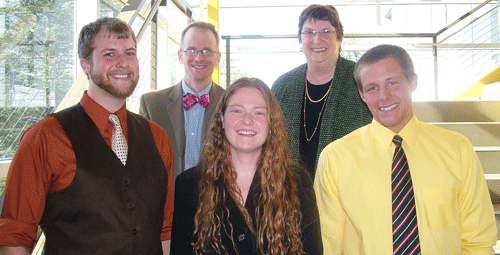 From left: Jacob Wenger, Dean Sharfman, Katherine Brelje,
President Switzer and Nathan Hodges
Manchester students turn to Japan, a local creek
and blue-collar students for winning research
Extensive and varied research that immersed Manchester College seniors in Japanese culture, quantitative analysis of working-class students and a Wabash County creek received the top honors at the 12th Annual Student Research Symposium.
"Some of the work that you heard today was graduate-level," said Glenn Sharfman, vice president and dean for academic affairs. "The idea behind the symposium is to have a structure that mirrors a professional conference." Sharfman congratulated the 38 presenters "for doing something when you did not have to, for educating all of us on your area of expertise, and for taking advantage of this opportunity to know your faculty member a little bit better."
Receiving the Jo Young Switzer Award for Excellence in Writing:
Art and philosophy major Katherine Brelje, who presented on Wabi: The Beauty of Imperfection in Japanese Aesthetics. Mentored by philosophy Professor Steve Naragon, the senior has studied abroad in Japan, Ecuador, Italy and Thailand.
Wabi, the Fort Wayne senior told her symposium audience, "hints at the reality behind the surface, the light behind the clouds, the feeling behind the pottery, the life behind the blossom, the soul beneath the skin with just enough mystery to keep one grasping for more."
Communications studies major Nathan Hodges presented Blue-Collar Scholar: A critical analysis of first-generation college students from working-class backgrounds at Manchester College. Mentored by communication studies Professor Dave Switzer, the Crawfordsville, Ind., senior is a public relations intern for the College.
"Creating channels of communication between Manchester College and parents of enrolled students will allow contemporary academic culture and working-class culture to interact and gain a clearer understanding of and appreciation for each other," Hodges told his audience.
Biology and environmental studies major Jacob Wenger presented Redside dace (Clinostomus elongatus) in Mill Creek, Wabash County, Indiana: A strategy research and augmentation. His research mentor is Jerry Sweeten, assistant professor of biology and environmental studies.
"Despite the considerable uniqueness and scarcity of the species, very little research or conservation effort has been applied to the redside dace," Wenger told his symposium audience about the tiny fish that can indicate ecosystem health. While participating in a four-year study funded by the Indiana Department of Natural Resources Fish and Wildlife Division, the senior from Petersburg, Pa., helped create the first successful captive redside dace breeding program.
April 2010