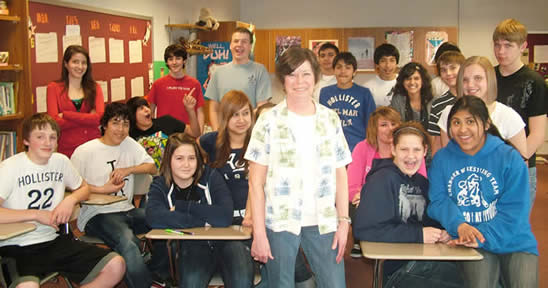 Manchester College's top teacher
mentors at West Noble Middle School
When more than 240 future teachers gather April 28 for Manchester College's annual night of Celebrating Education, they'll get a bright glimpse of their potential in English teacher Connie Pipher of West Noble Middle School.
Pipher, with 34 years of introducing poetry, literature and wordsmithing to middle-schoolers, is the 2011 Warren K. and Helen J. Garner Alumni Teacher of the Year for Manchester College. The 1974 English education graduate was nominated by 2007 graduate Ashley Libben, who teaches down the hall of the Ligonier school, "where I can hear the poetry coming from Connie's classroom."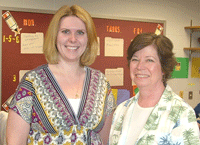 "Connie exemplifies what it means to be a true educator," said Libben in nominating her mentor. "In a time when public education and teachers are under attack, Connie has been a beacon to me … a reassurance that regardless of the struggles we may face, good educators are still in our schools and continue to fight for our children." Meaningful, flexible instruction tailored to her students is a Pipher trait, praises Libben.
With a fund created by the Garners, who are 1950 education graduates of the College and long-time educators, the Education Department annually recognizes an Alumni Teacher of the Year. "This person exemplifies what it means to be an engaging educator who makes a positive impact in the lives of students," said Heather Schilling, chair of the Education Department. "With nearly 4,000 living alumni who graduated with a teaching degree, the College has a lot to celebrate."
Pipher's mentors at Manchester not only were English professors but also taught psychology, communication studies, history and peace studies. "They were passionate about their subjects but still compassionate toward students," she said. "Teaching is a calling, a lifestyle, something that is as necessary as air or water. My experiences at Manchester prepared me for this challenge."
"Manchester College has a long history of preparing teachers," said Warren Garner, who chaired the College's Education Department for more than 20 years. "Helen and I thought the quality of the Manchester product needed recognition in a modest way." The Garners created a fund to help underwrite the recognition and opportunity for the Alumni Teacher of the Year to address the College's future teachers.
April 2011