Manchester College seeks
"best of the best"
alumni teachers for annual award
More than 5,500 educators began their careers at Manchester College – almost a third of the school's graduates. Such a large talent pool of persons with passion for teaching makes selecting a 2011 Warren K. and Helen J. Garner Alumni Teacher of the Year a daunting challenge.
"In a time when public schools seem under attack, it's important to recognize that good teaching is happening every day across the state and country," says Heather Schilling, chair of the Department of Education. "Good teaching is happening everywhere, and we need to showcase that success."
Nominations are sought for the award, to be presented at an April 28 celebration of education and "pinning" ceremony that will send the College's newest teachers into the field. The nominations deadline is March 15. "Manchester College has a long tradition of preparing excellent teachers for the classroom," notes Schilling, whose area of expertise is in early childhood learning and content area literacy. "Since its beginning, Manchester has provided educators with a strong foundation in pedagogy and practice." Currently, more than 240 teacher candidates are enrolled in the College.
The 2010 Teacher of the Year was 1986 graduate Portia Coe, who is the Irwin Elementary School building coach for Fort Wayne Community Schools. After 22 years in the classroom, Coe now helps teachers refine their methods and become better teachers.
The Garners, who have endowed the Teacher of the Year recognition, are 1950 graduates of the College. A member of the Indiana Educator Hall of Fame and a governor-honored Sagamore of the Wabash, Warren Garner chaired the Manchester College Department of Education for more than 20 years.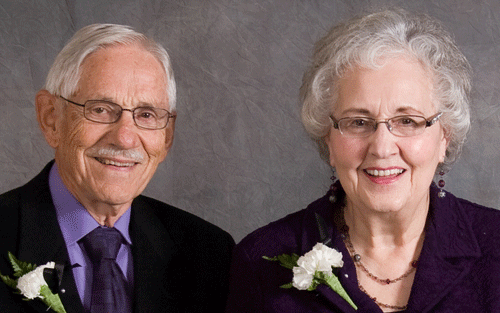 He helped to rewrite teacher training licensing standards during his service on the National Council for Accreditation of Teacher Education (NCATE), the Indiana Teacher Training and Licensing Commission and the Indiana Association of Colleges of Teacher Education. He also helped make the transition to the Professional Standards Board for teachers.
Helen Garner taught fifth- and sixth-graders for 22 years, enjoying the diverse development and interests of students of that age group. Upon her retirement after 17 years at Chester Elementary School in North Manchester, she told a reporter that teaching may require a variety of methods, noting, "I've learned that learning never stops." Helen and Warren Garner met at Manchester College, and began their teaching careers in Hobart, Ind.
The Warren K. and Helen J. Garner Alumni Teacher of the Year award honors a Manchester College teacher education alumnus/alumnae who is currently active in classroom teaching in grades preschool-12, who has made significant contributions to education, is deeply concerned about individual students and inspires learning.
To nominate a Manchester College graduate for the 2011 Warren K. and Helen J. Garner Alumni Teacher of the Year, visit the College website at www.manchester.edu to download a nomination form. Or, contact the Department of Education at 260-982-5056. Deadline for nominations is March 15.

February 2011