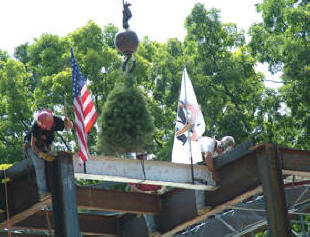 See the latest Science Center photos
Manchester celebrates half-way point
on $17 million Science Center
NORTH MANCHESTER, Ind. (July 16, 2004) – Roofed by a perfect blue sky, Manchester College reached a milestone Friday morning July 16 with a "Topping Off" of the steel structure for a new $17 million Science Center.
Workers hoisted into place the last beam, painted white and signed by MC students, faculty, staff and alumni and carrying the American flag, Manchester College's flag and a small evergreen tree. Serenaded by cheers and applause from far below, the workers bolted the beam into place over what will become the chemistry lecture room.
"The topping-off ceremony is a terrific opportunity for the Manchester College community to salute all of those who are building the new Science Center, especially the iron workers for their hard work, skill and safe labors," college President Parker Marden told the crowd gathered on the construction site. All wore hard hats for the ceremony, which also marked the half-way point of construction on the 85,600 square-foot structure – the largest in the history of the college. The evergreen tree celebrates safe progress on the construction and symbolizes respect for natural resources used in the structure.
The 55 construction workers stopped their labor to join current and emeriti faculty, staff, students and alumni for the brief ceremony. "We are now one step closer to the vision seen by many a long time ago," said Norb Stransky, project manager for R.L. Turner.
"We planned and waited nearly a decade before seeing actual construction, but now we know the product is a reality," said James Streator, who taught chemistry at MC for 32 years and is the college's "shepherd" and liaison for the Science Center. "I have been amazed at the speed with which construction has progressed."
The Science Center – financed without debt – will replace Holl-Kintner Hall of Science, built 44 years ago. Holl-Kintner will be refitted for classrooms and offices for other academic departments.
Manchester is a Church of the Brethren liberal arts college with 1,170 students from 29 states and 33 countries. For more information about the college, visit www.manchester.edu