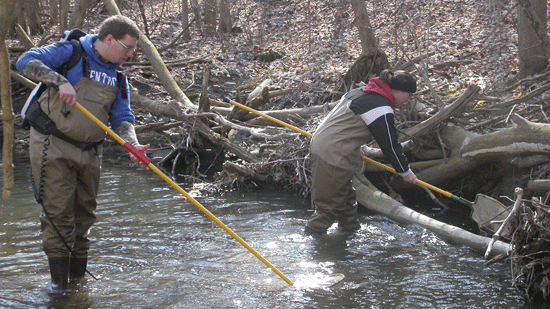 Manchester University students Ben Cloud and Amber Melick collect specimens on the Eel River.
New MU honorary society
nurtures green biologists
Two students are getting their feet wet this summer on research they will present as Manchester University's newest members of Beta Beta Beta national honorary society for the biological sciences.

Ben Cloud, a junior biology major from Winamac, Ind., and Amber Melick, a senior biology and environmental studies major from Geneva, Ind., are studying species that inhabit the river basin as part of the Middle Eel River Watershed Initiative.

In the fall, when classes start, they'll help lead renewal of a Manchester chapter of the honorary society.

As many as 50 Manchester students are potential members of the society, said Rachel Polando, assistant professor of biology who will serve as its advisor. Any undergraduate student with an interest in biology can join as an associate member. Full membership requires completion of at least three biology courses with a B or higher grade and a major in biology, environmental studies, medical technology or biology-chemistry.

Beta Beta Beta stimulates scholarship and shared research in the life sciences. Members work side-by-side with faculty, discuss their research at meetings and present at district and national meetings. All give students valuable experience and advice as they prepare for graduate study.

Manchester's charter in the honorary society was dissolved in 1989. To learn more about Beta Beta Beta (Tri-Beta), visit www.tribeta.org.

Manchester College leads the Middle Eel River Watershed Initiative, collaborating with Wabash, Kosciusko and Miami county agencies, organizations, landowners and others. For more information, visit www.manchester.edu/eelriverinitiative/index.htm.
July 2012