7:30 p.m. Saturday, March 6
Wine Recital Hall
Faculty, students, choir support Manchester's
first composition recital, by Tyler Secor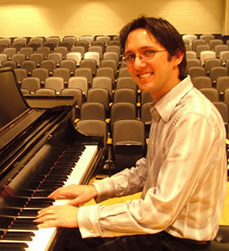 The premier composition recital of a Manchester College student – presented by College faculty, students and Chamber Singers – takes to the stage at 7:30 p.m. on Saturday, March 6 in Wine Recital Hall.
Etudes, Inventions and Peace in a Collision is the senior composition of Tyler Secor of Warsaw, Ind., who will graduate this spring with one of Manchester College's first bachelor of arts degrees in composition and theory.
"The first half of the recital focuses on new or underused sounds," notes Secor. The audience will hear "a collection of piano etudes that are sound depictions of a spirit world: a clarinet invention that combines the sounds of the Baroque era and the Modern era, and a mallet (drumstick) percussion and piano piece that explores both the mechanical and lyrical aspects of both instruments."
The second half of Secor's recital focuses on peace."First, a soprano solo that tells the story of one person's fight to be herself and her internal struggle to find peace," explains Secor."Second, a choral piece that echoes the voices of children and St. Francis in a modern world, where the words of peace must still be proclaimed."
Performing Secor's compositions on Saturday night: Dr. Tim Reed, assistant professor of music; College Registrar Lila Hammer; Dr. Mark Huntington, associate dean of academic affairs; Alan Chambers, adjunct music faculty; senior Josh Faudree, soprano Janna Peterson and the College Chamber Singers.
Secor also has a bachelor's degree in social work from Loyola University. After graduation from Manchester College, he plans to pursue a Ph.D. in music theory.
March 2010