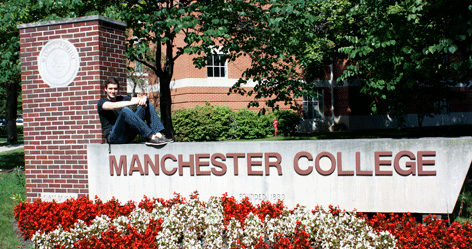 Ian Hoover of Huntington says Manchester is a great value.
The word's out: Manchester College
is a Great School at a Great Price
Financial aid packages and relevant academic experiences lift Manchester College as a Great School at a Great Price, say students and U.S. News & World Report. The leading guide for college-bound students and families ranks Manchester 4th in the Midwest for Best Value.

For its accolades, the magazine weighed Manchester's academic quality and the net cost of attendance for students who receive the average level of need-based financial aid. "The higher quality of the program and the lower the cost, the better the deal," said U.S. News & World Report in its 2012 Best Colleges issue, released online today. For the 18th year in a row, Manchester College is a Best Midwest College.

Junior political science major Ian Hoover agrees: "I was able to get more financial aid from Manchester than a state school," says the Huntington, Ind., resident who transferred from IPFW. He also found a passion for law through participation in Mock Trial, student government and faculty mentoring. "My liberal arts education is really starting to connect with me now," says Hoover. "In class discussions, you can pull from all the classes and tools you have."

"The U.S. News & World Report rankings are welcome affirmation of a quality Manchester College education and the importance of putting students first," said Dave McFadden, executive vice president of the 1,320-student northern Indiana school.

Epigmenio Sanchez, graduated in May 2011 with a bachelor's degree in biology-chemistry. "When I came to class each day, the professors were actively engaged in teaching me new things. The activities and labs I participated in were relevant to what we were learning. It's not always about the grade in the course; it's about how much you learn from the professor."

U.S. News & World Report ranks more than 1,600 schools nationwide for its college guide, which hits newsstands Sept. 20. Manchester's and many other rankings are online now at www.usnews.com.

The college guide groups schools based on categories created by the Carnegie Foundation for the Advancement of Teaching, including peer assessment, graduation and freshman retention rates, class sizes, student-faculty ratio, alumni giving and SAT/ACT scores.

Manchester College offers more 55 areas of undergraduate study and master's degrees in education and athletic training. For more about the College or to schedule a campus visit, check out www.manchester.edu.
September 2011