7 p.m., Dec. 12-15
89.5 FM or wbke.manchester.edu
How does Santa do that? Manchester College
radio station WBKE has the story, Dec. 12-15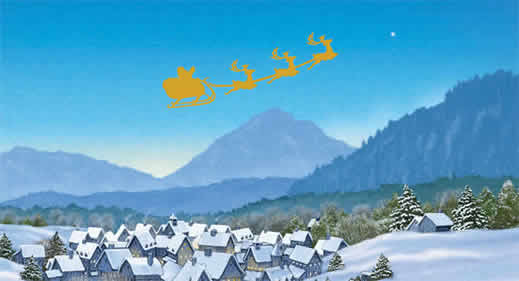 Manchester College's student-run radio station WBKE (89.5 FM) this month will broadcast The Christmas Chronicles, an eight-part drama about Santa, complete with original music.
The series premiers for the MC campus and North Manchester area audience this Sunday, Dec. 12. Two 30-minute episodes will air at 7 p.m. each night for four nights, through Wednesday, Dec. 15. Listeners will find the tales at 89.5 FM in the North Manchester area or on a live web stream at wbke.manchester.edu.
"Many people have memories of decorating for the holidays while listening to music," said Megan Fetters, visiting instructor of communication studies and WBKE advisor. "This will be a very charming addition to the season. Families will be able to create new a tradition."
The Christmas Chronicles are the stories playwright Tim Slover, a former Brigham Young University faculty member, told his children. Among the mysteries resolved: How does Santa deliver all these toys all over the world in just one night?
Created more than 60 years ago by Manchester College students, WBKE is a fully functional FM station that simulcasts with WBOI, the northeast Indiana affiliate of National Public Radio (NPR).
Original campus broadcasts range from Spartan and Manchester High School game coverage to talk and music shows. During much of the day, the broadcast schedule is that of WBOI of Northeast Indiana Public Radio – from Morning Edition to Midday Matters and Talk of the Nation.
For more about the campus station, visit wbke.manchester.edu. For more about Northeast Indiana Public Radio and its programming, visit www.nipr.fm.
To learn more about The Christmas Chronicles, visit www.classical89.org.
December 2010