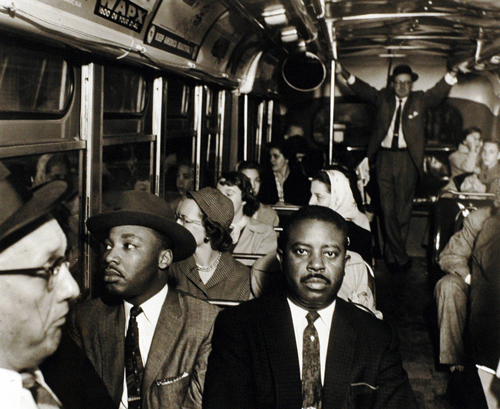 Dr. Martin Luther King and Rev. Ralph Abernathy on first desegregated bus
in December 1956 in Montgomery, Ala.
Civil Rights photography by Ernest C. Withers
on display at Manchester University
Ten iconic photographs of the Civil Rights Movement captured by Ernest C. Withers are the first images to cover the walls of Manchester University's new Academic Center.

The first-floor hallway of the learning center on the North Manchester campus is the perfect venue for the "I Am A MAN" exhibit, says Ejenobo Oke, coordinator of Manchester's art galleries. Among other programs, the Academic Center houses MU's social sciences, including the nation's oldest peace studies program.

"Withers' photographs are historically significant and culturally rich," says Oke. Often, the African-American freelancer was the first or only photographer to document Civil Rights Movement events as they occurred.
Photographs in the Manchester exhibit include protests of the integration of Little Rock Central High School, the Memphis Sanitation Workers' Strike led by Dr. Martin Luther King Jr. and the first day buses were desegregated in Montgomery, Ala. Withers died in 2007.

The collection is on loan from the Fort Wayne Museum of Art until Dec. 14. Viewing hours are 8 a.m. to 8 p.m. weekdays, when classes are in session, and by appointment. Admission is free. Contact Ejenobo Oke for appointments or further information, 260-982-5334.
September 2012