Thursday, April 15
7 p.m., Cordier Auditorium
Henney lecturer will focus on education's
role in responsible business leadership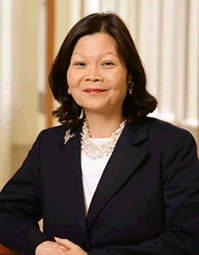 Education plays a pivotal role in the future of corporate ethics, particularly in developing principled business leadership, says international management and entrepreneurship consultant-scholar Dr. Carolyn Woo, who will deliver the Harry H. Henney '35 Lecture in Science, Education, and Business at Manchester College.
The Martin J. Gillen Dean of the Mendoza College of Business at the University of Notre Dame will speak at 7 p.m. on Thursday, April 15 in Cordier Auditorium. The public is invited to the free lecture, entitled Ethical Businesses: Realizing the Promise.
Woo has served as consultant to Eli Lilly, General Electric, Motorola and other major corporations and currently serves on the boards of two Fortune 400 companies. She also co-convenes the United Nations Global Compact Initiative Principles for Responsible Management and has received numerous awards for her scholarship, service and commitment. (Read more about Carolyn Woo.)
The Harry H. Henney '35 Lectureship in Science, Education, and Business was established by Dr. Jane E. Henney to honor her father, a graduate of Manchester College whose 40 years as an educator included service as a science and physics teacher, business manager, assistant principal and principal in the Fort Wayne area. He also served 25 years as clerk-treasurer of Woodburn, Ind. He died in 2007.
Dr. Jane Henney, also a Manchester graduate, is former commissioner of the U.S. Food and Drug Administration and currently a member of the College of Medicine faculty of the University of Cincinnati Academic Health Center.
April 2010