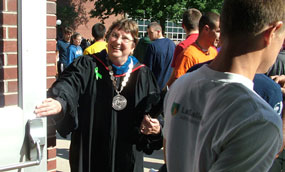 MC helps students weather 31 percent
state aid cut, sets enrollment record

When Indiana unexpectedly slashed state aid to students by 31 percent this summer, the College helped struggling families bridge the gap by awarding $1.1 million in additional financial aid. That helped students hold firm on their decision to attend Manchester … read more
---
Great Academics + Great Price = Manchester, say leading college guides

At a time when an affordable, quality college degree is more valuable than ever, Manchester College stands in the spotlight of the leading guides for college-bound students. For the 15th consecutive year, Manchester is among "America's Best Colleges" of U.S. News & World Report … read more

---
Alumni Spotlight
"Dave's Boys" honor their friend and mentor with endowed scholarship
Former students who thrived under Dave Friermood's guidance and mentoring today are accountants, bankers, educators, physicians, businessmen, fathers … read more
---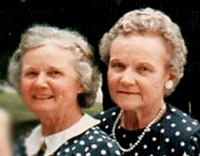 Lucile and Florence Sanders
Sanders sisters put students first
with surprise $700,000 bequest
Educators Florence E. Sanders '48 and Lucile V. Sanders '47 are ensuring that teaching excellence endures at their alma mater. When Florence died on Feb. 20, 2008, the Sanders sisters left Manchester more than $700,000 – no strings attached … read more
---
Alumni of Color reunite to celebrate
AAFRO House spirit, organize scholarship
Alumni of Color at Homecoming 2009 will celebrate 39 years of the AAFRO House spirit by creating a scholarship for future Manchester College students of color … read more
---
Clothes, gifts, umbrellas, accessories …
and textbooks, of course
Check out the new online Campus Store!

Can't make it to the fabulous Campus Store in the College Union? Want to arrive in style at Homecoming? It's all there, more than 500 items and more added daily, at the online Campus Store, open around the clock. Shop for jammies in your jammies!
---

It's easy to help students
find their place at Manchester
Be a S.T.A.R. – help spread the word about Manchester to college-bound students trying to find the right fit … read more
---
Have you seen the new
Career Services website?
It's chock-full of career connections and assistance, with a section especially for alumni. 2002 alumni will want to participate in the Career Survey. There's even an online chat room for ever-so-easy real-time conversations with Career Services staff. Take me to the Career Services page!
---